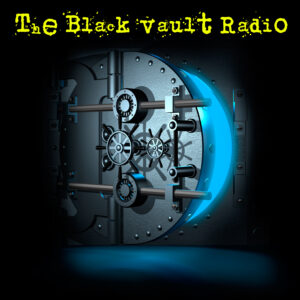 The Black Vault Radio
Hosted by: John Greenewald, Jr.
Subscribe at:






This is the first of a few content channels to come online. Below, you will find the "Audio Channel" and The Black Vault Radio, hosted by The Black Vault's founder, John Greenewald, Jr.  Episodes are at least weekly, but there is no set time. They are dumped online at random, and in the feed below you will also find some other surprises in the audio feed as time goes on. So make sure you subscribe! There are a ton of things coming your way…
---
Episode #4 – Dr. John B. Alexander – July 18, 2018
In Episode #4 of The Black Vault Radio, I welcome retired Army Colonel and Dr. John B. Alexander.  Dr. Alexander and I tackle quite a few topics, including his military background, his experiences on the mysterious Skinwalker Ranch and we explore a very lesser known UFO research program he was involved in during the mid 1980s.
In addition, I deal with some headlines and profile an FBI file that has some significance to the date this show was posted.
Links
TBV NEWS
– Trump's Space Force Will Guard the U.S. From Above, NASA Chief Says
– TRUMP'S NEW SPACE FORCE "IDEA" IS PROBABLY IN VIOLATION OF INTERNATIONAL TREATY
– The NSA Director Warned Staff Against Getting Into A "Tit For Tat" Over Trump's Angry Tweetstorm
– 'Project Blue Book' Trailer: Aidan Gillen Hunts UFOs In Robert Zemeckis-Produced History Drama
TBV DIALOGUES
– Dr. John B. Alexander's Website
– Dr. Alexander's Various Articles
– Dr. Alexander's Books on Amazon
– Skinwalker Ranch
– Human Genome Research
TBV UNREDACTED
---
Episode #3 – Joshua P. Warren – July 12, 2018
In Episode #3 of The Black Vault Radio, I welcome Mr. Joshua P. Warren. We talk about time warps and Area 51 technology, along with his world travels seeking the truth. We also hear about Joshua's extensive history with the paranormal in his lifetime, along with others in his family who are seemingly magnets for other-worldly activity. Some stories stretch back years before Mr. Warren was even born.  The focus of the interview is about a news story which was profiled in the TBV News segment on Episode #1 of The Black Vault Radio, and possibly an indication of time slowing down while on a trip to Area 51.  Mr. Warren goes into great detail about the device he used to take the measurements, and details the strange anomaly he was able to document.
In addition, I deal with some headlines and profile one of the most sinister stories ever to be declassified and released to the public.
Links
TBV NEWS
– Roswell Daily Record article detailing "alien mandible"
– NASA's Fermi Traces Source of Cosmic Neutrino to Monster Black Hole (Onstellar Quote / Article)
– National Security Archive Blog – Kavanaugh Instrumental in Bad FOIA Ruling, Secrecy System Unsustainable, and Much More 
TBV DIALOGUES
– Joshua P. Warren's Website
– Aquadilla, Puerto Rico UFO Video Referenced
– Information on the "Time Warp" Meter and Joshua's Discovery
– New UFO Puerto Rico Pictures
TBV UNREDACTED
– August 3, 1977 Senate Hearing on MKULTRA
– Entire MKULTRA Collection Released
---
Episode #2 – Frank Kimbler – July 6, 2018
In Episode #2 of The Black Vault Radio, I welcome Frank Kimbler, noted geologist and professor to the show. Mr. Kimbler has devoted his expertise and time to searching out trace evidence samples leftover in the desert of Roswell, New Mexico. Through his investigative work, he tracked down the actual crash site (the exact location of which has been rather elusive to most) and began metal detecting.  He has found multiple 'artifacts' including metal samples.  Testing shows these may not be of terrestrial origin, but what is even more intriguing, is in the past few weeks the Bureau of Land Management (BLM) was tipped off to his work on public land, and went after him to appear within a BLM facility, and bring his samples in for a review.  What happened next? Tune in to this amazing interview!
Also, I profile a brand new document that took nearly 5 years to get! I am not sure what is more interesting, the document itself, or the story that it took to get it.
And, of course, headlines within the TBV News segment.  Make sure you subscribe at the links above!
Links
TBV NEWS
– Sony Trailer for "UFO" Movie
– Declassified Nuclear Weapon Films
– Final Three UFO Files Released By UK Government Reveal A Very British Conspiracy
TBV DIALOGUES
– E-Mail Frank Kimbler
– Sample of Kimbler's Roswell Debris Disappears En Route to ASU
– Collecting on Public Lands, BLM Pamphlet/Handout
TBV UNREDACTED
– Intellipedia Entry on Area 51
– The Black Vault's Intellipedia Database
---
Episode #1 – Stanton Friedman – July 3, 2018
In the premier episode of The Black Vault Radio, I explore the new format to The Black Vault Radio, what the show is about, and what you can expect. Then, I sit down with Stanton Friedman, one of my long time friends in the field of UFOlogy, and we talk about his past, Roswell, his thoughts on the present day of the field and what's in store for tomorrow.
Also, I give you the first document in the TBV UNREDACTED segment, which profiles the 1976 Iran Incident document, how I came to learn about it and why I feel it is important.
There is lots to explore in this episode — so take a listen. I guarantee, you will learn at least one thing!
Links
TBV NEWS
– To The Stars Academy New Instagram Post
– Joshua P. Warren – Time Warp Story
– TBV Investigations Case Files
TBV DIALOGUES
– Stanton Friedman's Website
– Stanton Friedman's Books
TBV UNREDACTED