The Black Vault is proud to host files from the "Desks of Project Blue Book" — courtesy of Investigator Rob Mercer.  Many of these files are not available anywhere else, and are here due to the research efforts of Mr. Mercer.  None of this can be reproduced without the express permission, as Mr. Mercer personally scanned this material for archival purposes.
Background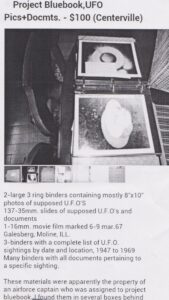 Rob Mercer is a longtime follower of the UFO phenomenon and a history buff, as well as a UFO Investigator from Ohio. He resides in the Springfield, Ohio about 20 minutes from Wright Patterson Air Force Base. Wright Patterson has a rich history of research and development. It also plays an important part in UFO lore, with its ties to Roswell in 1947 and other UFO events. The Air Force also conducted their different investigation programs of UFO's there, including Project Blue Book.  Rob had spent years doing service work in homes in the Dayton area, including those of personnel who worked at the base.  During this time, it was not uncommon for him to come across people that are also interested in UFO's. Some would have collections of books or binders put together from private investigators. Items that will eventually be passed on to relatives, who in most cases, don't care to keep them. It is a good bet that a lot of these collections will meet the curb, but from time to time you can find items such as these on Ebay or similar sites. Cost, time, and effort with shipping are required with these, something that most won't bother with. Craigslist however, provides a place that is free, and it allows for local pickup. For this reason, he long thought that if he kept an eye out, he might come across some deals on some personal collections.
One evening in late 2013, under a UFO search on Craigslist in the Dayton, Ohio area, he came across an ad that advertised Project Blue Book Pics and Documents. The ad was from Centerville, which is located just south of Dayton. It stated that the materials were apparently the property of an Air Force Captain who was assigned to Project Blue Book. They were found behind a pile of lumber bought at auction in a garage in Fairborn, Ohio. A good portion of Wright Patterson is located in Fairborn, so upon seeing this he was instantly intrigued. There was a good chance that it was the real deal. The next morning when Rob received a response, he was told that there had been no interest in the files up to that point. After work, he made the trip to view the items and was convinced of their authenticity. After purchasing the files (ALL UNCLASSIFIED), to be safe he made sure to get a screenshot of the ad in hopes of protecting himself if the files ended up having been stolen.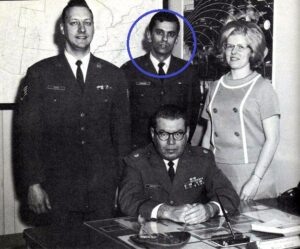 After returning home Rob began to trace their origin, as everything the seller knew about them was in the ad. He found a name that was on many of the later documents, and began his search there. He was able to determine the name was associated with a house that had been sold a few years before. A search showed this same house having an auction a couple of months prior. He drove by the house, and saw that there was a two-story garage behind it. This was perfect place for items to be stored, misplaced and possibly lost over time.
Convinced that the story was true, and that he was on the right track, Rob set about confirming that this was the actual Air Force Officer, and not just someone else that shared the same name. Everything matched up and he began trying to figure out how to approach him. In the case that he was unaware of the files being out, he did not want to expose him to trouble. The box contained slides showing "UFO" photos and other briefing documents, two binders with case summaries and photos, a 16mm from Moline, IL and various other files.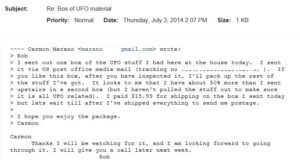 Contact was eventually made with the Officer and they ended up spending a couple of hours talking. He said that he didn't realize that he had left them behind when he moved out. They spoke about his time in service, the UFO program and politics. After 45 years his memory was a little fuzzy, but he remembered some of the cases. The Officer said he grew up a fan of science fiction, and mentioned that when he was first assigned to the program he planned to prove that we were being visited. After two years he became burned out and convinced otherwise. When looking at some of the hoaxes and other photos submitted to Blue Book, along with the amount of paperwork that went into each case, it is easy to see why this would happen. By the late 60's, little resources and staff were available.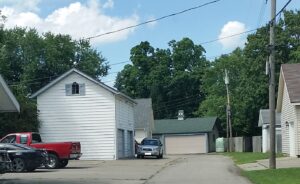 His duties included briefings on UFO's for the Air Force and investigating sightings. During his time, he was also charged with organizing the case files. Blue Book didn't have the best relationship with the press, and from time to time they would get requests about specific cases. He took it upon himself to make the process friendlier, he copied case files and organized them into books to make it easier for them. When the program shut down and closed in 1970, he declassified all of the case files except for Navy sightings. They could not be declassified because they would reveal military whereabouts. From there they sent the files on to Maxwell Air Force Base.
After seeing how much Rob enjoyed subject, the Officer informed him that he had a few more boxes from his Blue Book days back home where he stays during the spring and summer. Rob was sent four more boxes, including: Books, photos, case files, memos, rules & regulations, film, reel to reel sound tape, correspondences and more (ALL UNCLASSIFIED). He learned that the files he acquired were some originals, as well as copies that were used for the press, as well as UFO investigation tools, books, and other UFO related documents and interoffice memos (ALL UNCLASSIFIED) from their actual desks. They were earmarked for the trash, the officer kept them as souvenirs.
Document Archive
Individual Case Files
J. Allen Hynek Collection
The following material was collected from J. Allen Hynek. It is believed that the majority of this, do not appear anywhere else in the Blue Book files.
Film Reel Archive

Project Blue Book Reference Papers / Publications
(continued below…)

DISCUSS PROJECT BLUE BOOK ON THE BLACK VAULT MESSAGE FORUMS
Want to add your input? A discussion has been setup on The Black Vault Message Forums specifically for this topic. Post what you find interesting out of the collection, add your two cents, your opinion, something that was missed, extra information, whatever you would like!  To do so, simply click on the link above.
Sighting Research And Investigation Tools
This was a folder that contains most of the Project Blue Book investigation Tools. Some material was slightly redacted to preserve privacy of some individuals, and is separated to best index the documents in folder. (Note: some of the material below MAY be copyrighted. It is archived here for research and reference, and all copyrights are held by their respective holders. Also, you will note each PDF has bookmarks built in to help organize the information below even further.)
Project Blue Book Library
The Project Blue Book staff had their share of books on the shelves for reference, some of which, were saved by 2nd Lt. Carmon Marano.  Below, you will find the book covers scanned in.
2nd Lt. Carmon Marano Briefing Documents and Job Description
https://www.theblackvault.com/casefiles/wp-content/uploads/2018/01/maranoduty.pdf
Follow The Black Vault on Social Media: