Introduction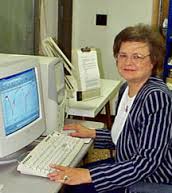 I am very excited, that my friend, Phyllis Budinger, has allowed me to post her work and research on The Black Vault.
Phyllis is one of the very few scientists that take a long and serious look at the scientific evidence left behind in paranormal cases, such as a UFO encounter, angel hair or crop circles.
She has devoted her free time to get to the bottom of these mysteries. Her work has been featured on various television programs, including my own work, when I produced and wrote History Channel's hit series UFO Files along with later writing Season 3 of UFO Hunters.
Now archived as the The Phyllis Budinger Collection, her technical reports break down her findings and are here for the world to see. Of course, it isn't always what we want to see, but she gives us answers and a scientific explanation/breakdown to evidence that has surfaced.
Special thanks to her for allowing me to publish these reports. These can not be reproduced in ANY way, without permission of Mrs. Budinger.
Biography of Phyllis Budinger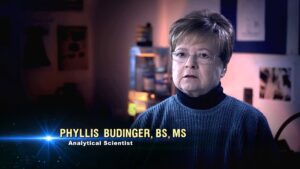 Phyllis Budinger was born and raised in northeast Ohio.  She holds two degrees in chemistry: B.S. – Baldwin-Wallace College, Berea, Ohio (1961); M.S. – Miami University, Oxford, Ohio (1964).
She joined Sohio, the original Standard Oil Company, in 1964.  Through a series of mergers and takeovers the company ultimately became BP/Amoco.  Phyllis retired with the rank of Research Scientist from BP/Amoco in August 1999.
Her 35 years of experience has been in analytical chemistry in the Research and Development Division of the company.  She headed a group specializing in spectroscopy.  Most of her analytical industrial experience has been devoted to some facet of trouble shooting and problem solving for BP businesses.
She has extensive experience in analyses using spectroscopic techniques (Infrared and Nuclear Magnetic Resonance), and has a working knowledge of most other analytical techniques.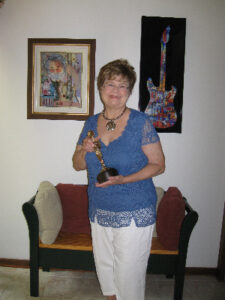 A life long interest in the mystery of the UFO phenomenon was the motivation for her to establish a small laboratory dedicated to the study of physical traces related to UFO events.  Frontier Analysis, Ltd. was launched in March 2000.   Since then, the laboratory has examined numerous UFO trace samples from all over the world.
These include samples from abductions, cattle mutilations, crop circles, UFO deposits, and angel hair. Some highly visible cases for which analyses have been provided include soil traces from the Delphos Kansas landing event and the dress Betty Hill worn during her abduction.
The results of these and other analyses have created media interest.  She has been interviewed on national radio talk shows and T.V.  She has appeared in episodes for the History Channel's "UFO Files" and "UFO Hunter" series and other documentaries.  She was designated "Ufologist of the Year" by MUFON (Mutual UFO Network) in 2013.
Follow The Black Vault on Social Media: