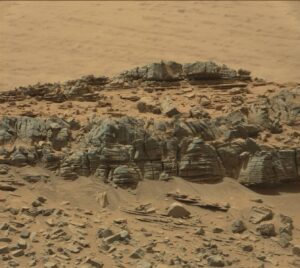 Official NASA Caption
This image was taken by Mastcam: Right (MAST_RIGHT) onboard NASA's Mars rover Curiosity on Sol 710 (2014-08-05 13:25:07 UTC).
What are we looking at?
In this photo from the surface of Mars, there is a mysterious and unknown looking creature or plant life on the wall of a rocky outcrop. Or maybe just an illusion and a trick of our eyes.
What exactly is it?
Although many photos on Mars are said to have "objects" like a squirrel, Nazi helmet, or Sasquatch, many are explained away by pareidolia, the psychological phenomena of seeing something that isn't, like let's say, a horse in a wisp of clouds. But could this one be different?
It appears to have a different shade of color than the surrounding rocks, indicating maybe it is something unlike the surrounding rocks.
Original NASA Source
http://mars.jpl.nasa.gov/msl-raw-images/msss/00710/mcam/0710MR0030150070402501E01_DXXX.jpg 
Photographic Analysis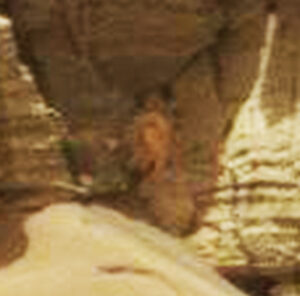 Follow The Black Vault on Social Media: