This unknown object was captured using the FREE UFO Detector software on 6/8/2015 over North Hollywood, California.
I am going to say up front, it is quite possible this is a balloon.  At one point in the video, I THINK you can see what appears to be a string. However, it is only there for a short moment.
Here are two screen shots of that moment: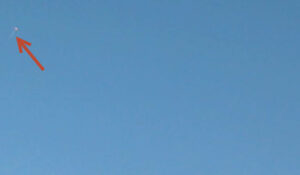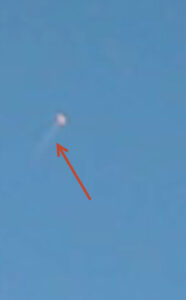 High Resolution Video – High Definition 720P Download
For those interested in analysis, here is a link to the highest resolution available (720P HD – Lossless / Uncompressed): Capture–2015-06-08–19-16-57.avi (96MB)
How was this captured?
This video was captured by using the "UFO Detector."
The Black Vault is excited to be a part of a project that provides a UFO Detector – a software tool that will let you utilize your computer and camera to scan the skies for possible UFOs.
The software is the idea of a programmer going by the name of projectCE, who created a computer algorithm to scan a video feed from your computer's camera. Once a light emitting object is detected, the program will analyze whether it's a bird, a plane, a helicopter, a bug, or quite possibly… a UFO!
That's right, this software continuously analyses the sky for movement and will omit the obvious and explainable objects. When it sees, what it believes, can be a UFO; it will record the video in the best available quality, and save the clip for you to review later.
The software is still in its beta phase and it is not meant to be a 100% accurate filter, however, it will save HOURS of time sifting through video, and produce a short list of results of probable UFO candidates for you to look at.
CLICK HERE FOR MORE INFORMATION