Background
Philip James Corso (May 22, 1915 – July 16, 1998) was an American Army officer.
He served in the United States Army from February 23, 1942, to March 1, 1963, and earned the rank of Lieutenant Colonel.
Corso published The Day After Roswell, about how he was involved in the research of extraterrestrial technology recovered from the 1947 Roswell UFO Incident. On July 23, 1997, he was a guest on the popular late night radio show, Coast to Coast AM with Art Bell where he spoke live about his Roswell story. This interview was rebroadcast by Coast to Coast AM on July 3, 2010.
The Day After Roswell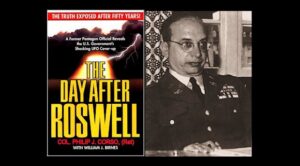 In his book The Day After Roswell (co-author William J. Birnes) claims he stewarded extraterrestrial artifacts recovered from a crash near Roswell, New Mexico, in 1947.
Corso says a covert government group was assembled under the leadership of the first Director of Central Intelligence, Adm. Roscoe H. Hillenkoetter. Among its tasks was to collect all information on off-planet technology. The US administration simultaneously discounted the existence of flying saucers in the eyes of the public, Corso says.
According to Corso, the reverse engineering of these artifacts indirectly led to the development of accelerated particle beam devices, fiber optics, lasers, integrated circuit chips and Kevlar material.
In the book, Corso claims the Strategic Defense Initiative (SDI), or "Star Wars", was meant to achieve the destructive capacity of electronic guidance systems in incoming enemy warheads, as well as the disabling of enemy spacecraft, including those of extraterrestrial origin.
Colonel Corso's DA Form 66 – Officer's Qualification Record
I received Colonel Corso's DA Form 66 back in 1998. Below, you will find a critique of the records vs. the details in the book.
https://www.theblackvault.com/documents/ufos/corso/corso.pdf
 Critique of Colonel Corso's Record
by Jan Aldrich
The Day After Roswell, caused immediate controversy when it was published in 1997 because of the apparent qualifications and background of the author retired US Army officer Philip J. Corso, and because of the extraordinary claims made in the book: that Corso handled and parceled out to US industry technology recovered from a UFO crash in New Mexico in the late 1940's.
The documents, images of which are presented below, were originally obtained by Larry Bryant through a Freedom of Information Act request, subsequently supplied to Jan Aldrich of Project 1947, and finally sent to us by Jan. The documents are Philip J. Corso's Department of the Army Form 66, Officer Qualification Record, which summarizes his military career. The information contained in this record is in summary form, and generally can't be used to determine specific reasons why something happened in a person's career. Some items are blacked out because of the Privacy Act. Some items are in apparent conflict with statements made in The Day After Roswell.
CUFON is presenting these items in furtherance of our goal to make pertinent information freely available to an interested public. Corso's book has further divided much of the UFO community seemingly validating the belief systems of some, and damaging those of others. Corso's credibility results largely from the credentials he brought to the subject by virtue of his military career. The documents presented here, while not his whole military personnel record, shows some apparent conflicts with claims made in The Day After Roswell.
Comments below are from Jan Aldrich:
The information on the forms provides the following facts:
1.
LTC Corso was a commissioned in the Artillery and the Artillery was his control branch during his career.
2.
He was a reserve officer.
3.
He served 21 years in the Army. 23 Feb 42-1 Mar 63 .
4.
He has credit for 4 overseas tours.
European theater 13 Apr 43- 22 Mar 46
Mediterranean theater 24 May 46-22 Mar 47
Far East Command 1 Sep 50-2 Jun 53
US Army, Europe 19 Oct 57-13 Sep 60
5.
He was granted a General Staff Identifier on 1 Jun 62.
6.
He was promoted to Lt.Col. in AUS on 30 July 53 and in USAR 21 May 1957.
7.
He had a long list of Military Occupational Specialties most involved with Intelligence and Air Defense Artillery.
8.
He had a command as a Battalion Commander of Air Defense Battalion in Europe.
9.
Civilian Education includes 2 years of college. He had two Intel Courses and three Artillery Courses.
10.
He was awarded the Legion of Merit and other commendations. He has a number of campaign ribbons for service during WW II and the Korean War.
11.
He has no credit for campaigns in Korea.
12.
He was detailed away from his career main branch five times comprising a significant part of his career.
13.
He was assigned to Fort Riley, Kansas from 21 April 1947 – 12 May 1950.
14
He was assigned to GHQ, Far East Command on 11 Sep 50 to 1 Jan 53, as Intel Staff Officer, Plans & Estimate Branch, Theater Intelligence Div, G-2.
15.
From 1 Jan 53 to 2 Jun 53 he was assigned as Chief Special Project Branch, G-2 Section of the HQ, AFFE, 8000th AU (I do not know what these designations mean.)
16.
From 15 Jul 53 to 20 Oct 56 he served in various Intel positions in Washington, DC included a short temporary duty to the Psychological Strategy Board (PSB) at the State Department.
He had various other assignments until 1961. The most important to his career was as Battalion Commander from 1957 to 1958.
18.
On June 20th, 1961 he was assigned to the Foreign Technology Division (FTD) as a Staff officer. He stayed at that assignment until 18 July 1962, when he was assigned as Staff Officer in the Plans Div, OCRD, Washington, DC.
19.
During his FTD assignment, he was chief from 18 April – 18 Jul 1962. Of this 90 day assignment, which qualified him for a official rating report as chief, he was absent for 15 of those days.
Corso said he was head of the Foreign Technology desk. I take that to mean he was Chief of the Foreign Technology Division just as when Edward Ruppelt said he was head of the UFO desk at ATIC, we can take that to mean Ruppelt was chief of Project Blue Book.
William Birnes called me up to dispute this little point. I still stand by what I said and the records bear me out, Corso was only chief or HEAD of the Foreign Technology Division for 90 days not two years.  You can parse words all you want the first sentense in Corso's book definitely leaves the impression that he is the chief or head. If that was not what was intended, then it should have been worded differently.
Certain things can be inferred from Corso's record. However, drawing conclusions from limited information is very likely to lead to incorrect answers.
DA Form 66's are generally better maintained for officers than for enlisted personnel. Assignments and "duties performed" for officers are usually taken from their rating reports. However, mistakes are incorporated into the form more frequently than personnel officers would like. The officer is required to audit his form periodically and Corso's form indicates that an audit was done just prior to his retirement.
So with the qualifications expressed above, what can be concluded about Corso's career?
| | |
| --- | --- |
| 1. | He obtained a General Staff Identifier. This is rather important and impressive. This would be a positive factor for further promotion consideration. |
| 2. | He did not try to raise his civilian educational level. This figures against him for promotion and retention. |
| 3. | He had a wide variety of assignments, many of them away form the his career branch. Once again, this would figure against him for promotion and retention unless his raters outside the Artillery Branch could influence his Branch to give special consideration for the duties performed. |
| 4. | Corso's Form 66 would not indicate if he applied for Regular Army status. It is obvious that he did not have it. Reserve Officers generally were under an "up or out" policy. If they were considered and passed over for promotion, generally twice; then they had to leave the Service. |
| | He was assigned to Fort Riley, Kansas during the time he indicated in his book and probably served a number of times as Field Officer of the Day (FOD). |
| 6. | He was Chief of FTD for 90 days. He worked for FTD for one year. |
| 7. | FTD was part of OCRD and he was assigned there from 5 May 61 to his retirement on 1 Mar 1963; less than two years, of which he was absent for 37 days. Considering that he had to get his retirement planning and preparation done and the required time for out processing, more than the 37 days must have been consumed on personal matters. |
| 8. | He was awarded the Legion of Merit for his Far East tour. This is a significant award, not just an "I-was-there-too" award. Since 1989 or so, the Army has handed out awards like candy. During Corso's career, soldiers generally earned the awards they got. |
| 9. | Someone commented that Corso was only Battalion Commander for part of this tour in Germany. There is nothing adverse here. It is standard procedure to spend half a tour in command and then go on to a staff position. In Corso's case, it was Inspector General for 7th Army Support Command. |
| 10. | Most of Corso's Military Occupational Specialties (MOS) were awarded due to qualification from schools. His Research and Development Coordinator MOS was apparently awarded by virtue of his work in that position. |
| 11. | Both the R & D Coordinator MOS, the General Staff Identifier and the Chief FTD assignment were about the same time. One could speculate that Corso's boss was trying to get his records spruced up for the next promotion/retention board. Certainly, this is not unheard of. Whether it is true or not is another question. |
| 12 | Corso last officially reviewed his records on 25 Feb 63 which was probably in preparation for his retirement on 1 Mar 63. |
The DA Form 66 does not indicate security clearances. Generally, today a Battalion Commander in the Air Defense requires a Top Secret/Sensitive Compartmentalized Information (TS/SCI) clearance which requires a Special Background Investigation. Clearance information is on the clearance form itself or on the Officer Record Brief.
Some of Corso's assignments like Unit Advisor to the National Guard in Towson, Maryland from 10 Oct 60 to 5 May 61 could very well have been a cover assignment, or may have been an actual assignment. If Corso were such a fast burner in the intelligence field, his superiors should have got him his promotion to full Colonel. That may have required some greasing of the skids with the Artillery Branch, but certainly not unheard of.
Speculation on what could, should or would have happened is just that: speculation.
Jan Aldrich
Project 1947
http://www.project1947.com/
P. O. Box 391, Canterbury, CT 06331, USA
Telephone: (860) 546-9135