Case File Information
Date of Event / Case File: 08/04/2013

EXPLAINED – SEE BELOW
Mysterious Priest Performs Miracle At Site Of Mercedes Crash
by Rajah Maples
CENTER, MO. — Rescue workers want to thank a higher power for coming to the rescue early Sunday morning.
Emergency crews spent an hour and a half trying to extricate a 19-year-old Quincy woman trapped in her in crushed car on Missouri 19 near Center, Mo.
The Missouri Highway Patrol said Aaron Smith, 26, crossed the center line and struck Katie Lentz head-on.
Now, friends, family and those who rescued Lentz would love to find and thank a mysterious priest who they say helped make the rescue possible.
New London Fire Chief Raymond Reed said rescue crews spent the first 45 minutes after the accident trying to get Lentz out of a car to no avail Sunday morning shortly after 9 a.m. The metal on an older model Mercedes dulled the department's equipment.
"It was a very well-built car, and when you compact materials like that one, they become even stronger because you're cutting through multiple things instead of one layer," Reed said.
Reed says Lentz was pinned in between the steering wheel and the seat. After 45 minutes passed, medical workers told rescue crews that Katie was failing and fast. That's when Reed decided to move the car, which was standing on its side, back on all four wheels.
About an hour into the rescue, Katie asked rescue workers to pray out loud with her. That's when a priest appeared out of no where.
"He came up and approached the patient, and offered a prayer," Reed said. "It was a Catholic priest who had anointing oil with him. A sense of calmness came over her, and it did us as well. I can't be for certain how it was said, but myself and another firefighter, we very plainly heard that we should remain calm, that our tools would now work and that we would get her out of that vehicle."
The Hannibal Fire Department showed up right after that prayer with fresh equipment and was able to finish the extrication. After getting Katie safely into the Air Evac helicopter, at least a dozen of the rescue workers turned around to thank the priest who was no where in sight. The highway had been blocked for a quarter of a mile during the hour and a half rescue, leaving no bystanders and no parked cars nearby. Lentz' family and friends are amazed by the story.
"Where did this guy come from?" Lentz's friend Travis Wiseman asked. "We're looking for the priest and so far, no one has seen him. Whether it was a priest as an angel or an actual angel, he was an angel to all those and to Katie."
"We would like to find this gentleman and be able to thank him," Reed said. "As a first responder, you don't know what you're going to run into. We have a lot of tools, and we have intensive training. In this particular case, it is my feeling that it was nothing more than sheer faith and nothing short of a miracle."
Two witnesses have described the priest to KHQA.
Katie has undergone surgeries to repair several broken bones. She is scheduled for more surgeries in the coming weeks, but friends and family say her spirit has not wavered.
"Both of her legs are very damaged," Lentz's friend Amanda Wiseman said. "Her wrist is broken, several broken ribs, so she's had a lot of broken bones to deal with."
According to Katie's mother, Katie's condition has been upgraded to serious condition in Blessing Hospital. In addition to several internal injuries, she has undergone orthopedic surgeries and has more to face.
"All along the way, her foremost request is for people to pray and to pray out loud," she said. "We would like nothing more than to carry that message forward for her."
The driver of the other car in that accident, Aaron Smith, has been charged with a DWI, second degree assault and failure to drive on the right half of the roadway.
KHQA asked the Missouri Department of Transportation if there have ever been talks of turning Missouri 19 into a 4-lane highway.
A MoDOT spokesperson said a group called the Tri-State Development Group has identified that highway as a priority to examine. However, MoDOT has never identified that road as a priority.
Source and special thanks:http://www.connecttristates.com/news/story.aspx?id=930741
---
'Angel' priest visits Missouri accident scene
By Melanie Eversley, USA TODAY
Emergency workers and community members in eastern Missouri are not sure what to make of a mystery priest who showed up at a critical accident scene Sunday morning and whose prayer seemed to change life-threatening events for the positive.
Even odder, the black-garbed priest does not appear in any of the nearly 70 photos of the scene of the accident in which a 19-year-old girl almost died. No one knows the priest and he vanished without a word, said Raymond Reed, fire chief of New London, Mo.
"I think it's a miracle," Reed said. "I would say whether it was an angel that was sent to us in the form of a priest or a priest that became our angel, I don't know. Either way, I'm good with it."
Carla Churchill Lentz, mother of the teen who was critically injured, said emergency workers have told her there is no way her daughter should have lived inside such a mangled car. Of the priest, she said, "I do believe he certainly could have been an angel dressed in priest's attire because the Bible tells us there are angels among us."
The scene unfolded Sunday morning. Katie Lentz, a sophomore at Tulane University, was driving from her parents' home in Quincy, Ill., to Jefferson City, Mo., where she has a summer internship and planned to attend church with friends. The Mercedes she was driving collided with another vehicle on a highway near Center, Mo. The accident crushed Lentz's vehicle into a ball of sheet metal that lay on the driver's side, Reed said.
Reed's team and emergency workers from several other jurisdictions tried for at least 45 minutes to remove the twisted metal from around Lentz. Various pieces of equipment broke and the team was running out of choices. A helicopter waited to carry Lentz to the nearest trauma center. Though Lentz appeared calm, talking about her church and her studies toward a dentistry degree, her vital signs were beginning to fail, Reed said.
"I was pulled off to the side by one of the members of the" helicopter evacuation team, Reed said. "He expressed to me that we were out of time. Her condition looked grim for her coming out of that vehicle alive. She was facing major problems."
At that point, Reed's team agreed to take the life-threatening chance of sitting the vehicle upright so that Lentz could be removed from it. This is dangerous because a sudden change in pressure to the body can be critical, he said.
That's when Lentz asked if someone would pray with her and a voice said, "I will."
The silver-haired priest in his 50s or 60s in black pants, black shirt and black collar with visible white insert stepped forward from nowhere. It struck Reed as odd because the street was blocked off 2 miles from the scene and no one from the nearby communities recognized him.
"We're all local people from four different towns," Reed said. "We've only got one Catholic church out of three towns and it wasn't their priest."
Reed and the other emergency workers were on their knees. The priest of about medium build, maybe 6-feet-tall, stood above them.
"This priest approached Katie and began to pray openly with her," Reed said. "He had a bottle of anointing oil with him and he used that."
Another firefighter who had been watching said it appeared as if the priest also sprinkled Reed and two other emergency workers nearby with oil.
Everything happened quickly after that. Twenty emergency workers pulled together and sat the car upright, Churchill Lentz said. Katie Lentz's vital signs improved and a rescue team from a neighboring community suddenly appeared with fresh equipment and tools. Lentz was removed and rushed to the hospital.
With Lentz gone, the rescue team prepared to clean up, Reed said.
"We all go back to thank this priest and he's gone," he said.
Initially, they assumed he had to get to his home church to lead Sunday services. But then they looked at their photos of the scene.
"I have 69 photographs that were taken from minutes after that accident happened — bystanders, the extrication, our final cleanup — and he's not in them," Reed said. "All we want to do is thank him."
Meantime, the Missouri State Highway Patrol reports a 26-year-old male was arrested Sunday on charges of DWI, failure to drive on the right half of the roadway and second-degree felony assault. He was treated and released from a local hospital, according to the report.
The Facebook page of Lentz's mother, Carla Church Lentz, indicates Lentz is on the mend despite suffering two broken femurs, a broken tibia and fibia, broken left wrist, nine broken ribs, a lacerated liver, ruptured spleen and bruised lung.
Churchill Lentz said her daughter has undergone two surgeries at Blessing Hospital in Quincy, Ill., and will undergo two more, but has been upgraded from critical to serious and is doing well.
"She sustained a lot of injuries, however, her face is beautiful, her teeth are perfect, she is sunshine, and everyone who's contacted us — those emergency personnel, the Missouri State Patrol, the deputies, the firemen — they are all saying the same thing, she never cried, she never screamed, she would just say, 'pray for me and pray out loud.' "
Source and Special thanks:http://www.usatoday.com/story/news/nation/2013/08/07/angel-crash-missouri/2630227/
---
Artist Creates Sketch Of Mysterious 'Angel Priest' Who Appeared At Mo. Crash Scene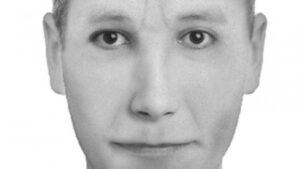 An artist has created a sketch of the mysterious "angel priest" who witnesses say appeared at the scene of a Missouri car accident Sunday, anointed and prayed with the teenage victim and then vanished without a trace.
Fox4KC reports Tucson-based artist Randall Sands created the sketch using online face sketch software at facesid.com based on media reports, hoping someone would be able to identify the cleric.
Officials are still scratching their heads over the priest, who they say appeared out of nowhere. Perhaps more mysteriously, the local fire chief said he does not appear in any of 80 photos from the accident scene.
"I think that this time I've actually witnessed a guardian angel at work," Jeremiah See of the New London Fire Department told ABC News.
Family and friends of the victim, 19-year-old Katie Lentz of Quincy, Mo., say they are hoping to find the priest and thank him for making the rescue possible.
"Where did this guy come from?" Lentz's friend Travis Wiseman asked, according to KHQA. "We're looking for the priest and so far, no one has seen him. Whether it was a priest as an angel or an actual angel, he was an angel to all those and to Katie."
Rescuers tell Fox4KC a 26-year-old driver crossed the center lane and hit Lentz' car head-on. Authorities spent about 45 minutes trying to cut her out of the car, but the metal on her older car dulled the equipment.
"The fire chief, Raymond Reed, had stepped back and came up to me and said he was concerned because he was out of options. His tools weren't working and by that time, it was almost an hour and said I don't know how we're going to get her out," Ralls County Sheriff's Deputy Richard Adair told KHQA.
At this point, Fox4KC reports Lentz asked the rescuers to pray with her. Then the priest appeared – although the highway was blocked for two to three miles and emergency responders were not letting anyone past the roadblocks.
"He came and he asked to anoint the girl in the car," Adair said. "My first thought was that it would possibly send the wrong message to Katie that maybe we had called a priest and thought she wasn't going to make it. So I went back and talked to the priest and told him we were worried she would think we'd given up hope. He said, 'I just want to anoint her' and so we just let him come up to the scene."
Witnesses said he anointed Lentz and her rescuers with oil, prayed with them and asked them to remain calm.
The Hannibal fire department then pulled up with fresh equipment and was able to free Lentz. After getting her in the Air Evac helicopter, rescue workers said the priest was nowhere to be found.
Fire Chief Reed said the department took 80 photos of the scene and the priest did not appear in any of them.
A witness who said she and her husband held Lentz' hand after the accident tells KHQA she remembers the priest well.
"He was dark complected," she said. "He had an accent, but I'm not sure what nationality. He was probably 5 feet 6 inches maybe. He was not heavy set, but he probably weighed close to 200 pounds. He had dark hair."
The Diocese of Jefferson City says it has not located the priest involved and does not plan to search for him.
"Out of respect for the privacy of any priest who may have been involved and does not wish to come forward, the Diocese does not plan to further investigate this incident. The Diocese is grateful that a priest was able to exercise his ministry in this manner and requests prayers for healing of the victim, as well as prayers of thanks." Deacon Dan Joyce said.
Ralls County Prosecuting Attorney Rodney Rodenbaugh said he anticipates charges will be filed against the driver Aaron Smith, KHQA reports.
Lentz remains at Blessing Hospital in serious condition. She was treated for multiple fractures and serious internal injuries.
Source and special thanks:http://www.foxnews.com/us/2013/08/10/small-town-searching-for-identity-mysterious-angel-priest-who-appeared-at-crash/
---
Mystery priest from Mo. car accident scene ID'd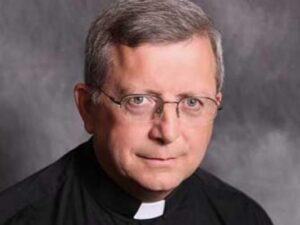 Melanie Eversley, USA TODAY
The mystery priest who appeared at the scene of a serious accident last week in eastern Missouri involving a teenager has been identified as the Rev. Patrick Dowling, KDSK and other news agencies are reporting.
The Diocese of Jefferson City, Mo., identified the clergyman after he stepped forward in the comments section of a story about the incident in the National Catholic Register.
Emergency responders had been working on extricating Katie Lentz, 19, from her damaged vehicle for at least 45 minutes when they saw her condition was drastically deteriorating. When Lentz asked if those around her would pray with her out loud, the priest stepped forward and said he would.
After emergency responders successfully removed Lentz from the wreckage and sent her off to the hospital via helicopter, they went to thank the priest and found he'd disappeared.
Dowling wrote in the National Catholic Register that he was returning from Mass when he came upon the accident scene.
"I absolved and anointed Katie and, at her request, prayed that her leg would not be hurt," the priest wrote. "I left when the helicopter was about to take off."
The story stirred the imaginations of many across the country, including some who speculated he might have been a monk who died in 1927.
Source and special thanks: http://www.usatoday.com/story/news/nation/2013/08/12/mystery-priest-identified/2646255/