Background
These papers were obtained by The Black Vault from the University of Arizona, during the production of a History channel documentary about UFO trace evidence (UFO Files series).
During the research phase, these documents were brought in from the University, but did not make it into the final cut of the show.
I have digitally preserved them here, for archival and research purposes.
These are from the University of Arizona, James E. McDonald Collection, Call #MS 412, Box 1, Folder 15, for reference.

UFO Trace Evidence Case Files, Gleeson, Arizona – August 26, 1968 [10 Pages, 6.8MB]
In addition to the above file, I found that the paper was scanned (not a great resolution) by the Arizona Daily Star in 2014. Although the text is more readable in the above PDF, I have archived this scan as well: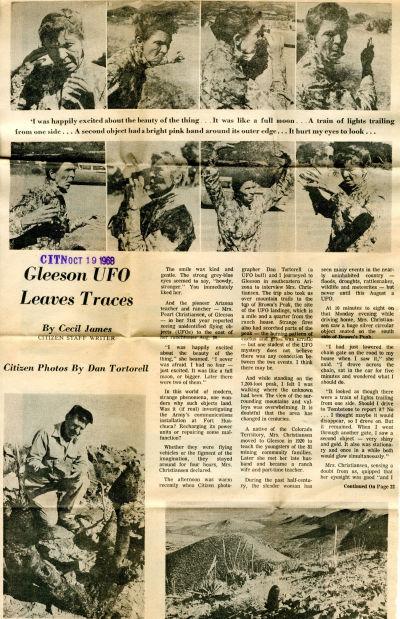 And thanks to Black Vault user Claude Falkstrom, the original (readable, just click to zoom) scans were submitted and archived here:
Lastly, the Arizona Daily Star also published some scans of the original photographs. As of the writing of this case file, they can be seen HERE. However, I have also archived them below for preservation. The captions used are the ones published by the Arizona Daily Star.