Case File Status: Likely Explainable, Lacks Sufficient Information
Background
This case was submitted to The Black Vault / TBV Investigations on August 3, 2018. It was assigned to investigator Paul Wright for analysis and investigation.
Witness Testimony
The witness submitted the following report:
"Went outside to leave for work and looked up and their it was."
The Evidence
The witness submitted the following video with their short testimony above. It is offered here, unedited:
The Analysis
By Paul Wright, TBV Investigations
Using just the video evidence and no further contact with the witness since initial report submission, I will attempt to identify what the witnesses observed based on the following facts along with the witness statement.
The footage provided makes it difficult to ascertain direction, height, speed or reference for scale.
My first approach was to scan the metadata contained within the video, all seems ok and intact.
The video shows a cluster of white and red lights with a flashing sequence. In my opinion they closely resemble aircraft lights and if you listen carefully you can hear some aircraft engine noise. The light formation and flashing sequence indicate landing / takeoff lights.
See images below sourced from http://www.aerospaceweb.org/question/electronics/q0263.shtml for the layout of lights on a commercial aircraft.
Example photograph of Boeing 737 showing common types of lights placed on aircraft sourced from http://www.aerospaceweb.org/question/electronics/q0263.shtml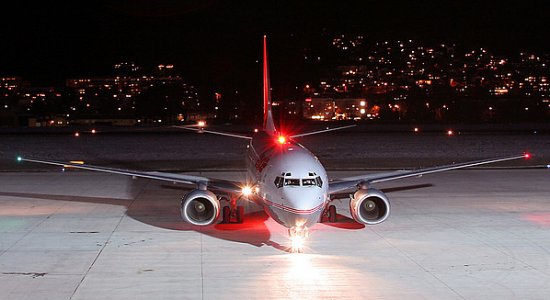 Google Maps was used to locate the witness sighting position, and to search the local area for airports.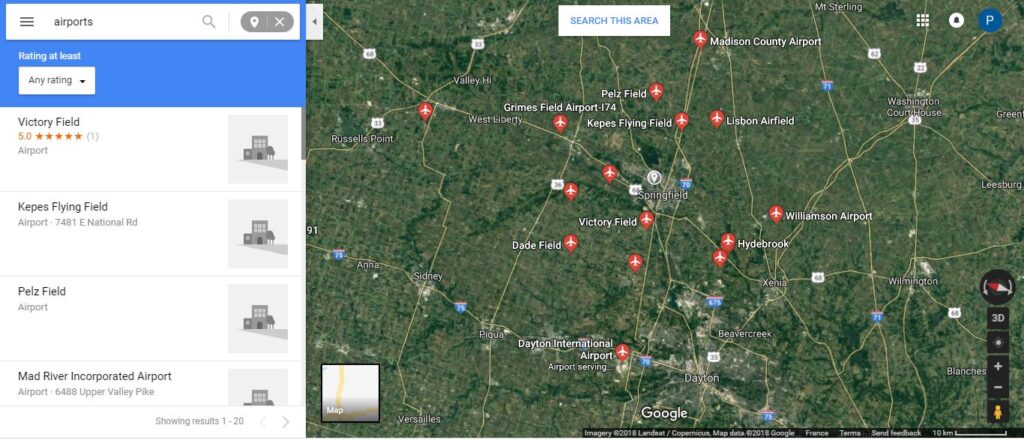 Stellarium was used for the night sky date of 08/02/2018 5:00 AM to check for celestial objects. Direction of sighting unknown, therefore N,E,S,W images are included. See images below.
Weather for Springfield as 08/02/2018 5:00 AM – link here to Wunderground Belfontaine Weather Station
https://www.wunderground.com/history/daily/us/oh/bellefontaine/KEDJ/date/2018-8-2
Flight Radar historical data could be used in this case, however the direction of the sighting is unknown.
Conclusion
Based on the witness description and video evidence, I am inclined to say this is likely an aircraft either in approach to land or climbing after takeoff from one of the airports around Springfield, Ohio.
Additional Information
Meta Data