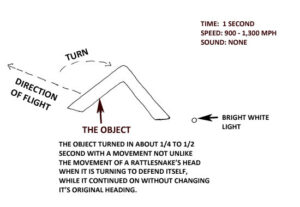 Description: I saw an object that was boomerang shaped and cloud (white) colored. You could almost see through it. A bright white light was traveling along side it.
It was moving in a south-east direction at approximately 900 to 1350 MPH and it was silent. I couldn't tell how high up it was.
It was maybe was at 1,000 feet altitude. It took 4 seconds to move over my head and disappear over the mountains into the blue sky. I was trying to figure out what I was looking at for the first few seconds.
Then it made a maneuver just before it disappeared that made the hair stand up on the back of my head. It moved like it was a snake turning it's head. It was very spooky!
Follow The Black Vault on Social Media: