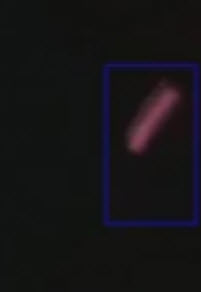 This video was captured by Black Vault member "hiflier" using ProjectCE software at 9:09 in the evening on April 1, 2015.
The object was extremely fast and bright but the speed of the program was able to capture for the few milliseconds (two frames) that it was visible. The night sky was clear at the time of the video capture with Sunset 2 hours prior at shortly after 7:00pm.
The object appeared to be about 40 degrees above the horizon in the south/southwestern part of the sky with the objects distance, altitude, and actual speed, undetermined.
Note: The larger, bright object, is the moon.
Original Video: