Case File Status: Probable Hoax- Photos Digitally Manipulated and/or Enhanced
Background
The following case was submitted to The Black Vault / TBV Investigations.  The witness submitted the following testimony:
Witness Testimony
"I was randomly shooting the moon with my Canon SX60HS which can zoom into craters on the moon. I had it on auto, no particular settings other than 3 shot burst.
I did not see the object when I clicked the shutter, it was only later when looking over the images of the day. What I captured I kept to myself, a few friends and family. Posted it to fb twice for some opinions later on.
It was only recently that I decided to throw it out there and get some real ideas on what, who and where this came from.
Thanks for your help,
NAME REMOVED
** I have added all of the pictured captured in the 3 burst. The times in exif data reflect this.
– image with object IMG_6440
– images without objects IMG_6441, IMG_6442
** I have added the photo to a video and blown it up here
Note from The Black Vault: The video was removed to withhold the witnesses identity. It only was a blow up of the below photographs, so all REAL evidence is maintained in this case file. For reference, here is a blow up of the object (with is a screen shot from the video).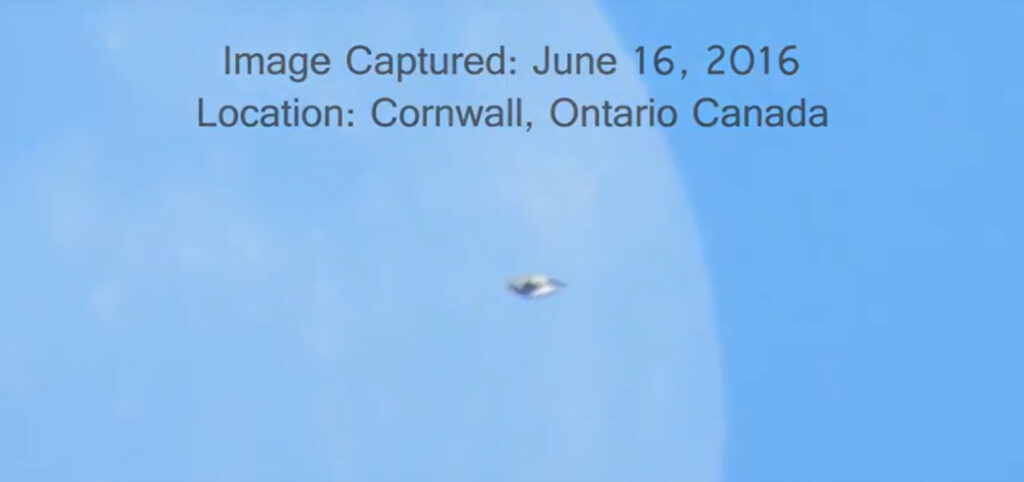 The Evidence
The following photographs were submitted for analysis:
The Analysis
by Michael Kelly, TBV Investigations
After conducting a series of thorough photo forensic methods, a number of discrepancies were found in the photographs submitted by the witness.
We list only a few of the examples, though more can be found in the metadata using sophisticated photography software. These examples are sufficient to support our conclusion, and we feel that adding even more additional (and technical) evidence would only assist future digital manipulation of a "UFO" photograph.
Problem #1
The 3-shot burst mode is not indicated in the time stamp nor the metadata which indicates each shot was separated by a few seconds and not fractions of a second as would be the case in burst mode.
Model
Shooting Mode
Speed
Canon PowerShot SX60 HS
Auto-focus
Approx. 3.8 shots/sec.
Image time stamps
19:15:09
19:15:12
19:15:20
It is noted that when the witness was asked about this, they submitted the following, and changed the original submission:
"Yep you are right in that they possibly weren't the pictures I snapped in the burst, I have always assumed they were as I was going from memory out shooting. They were certainly part of the same group of images which I had shot in the burst, however they may have been just straight shots as well."
Problem #2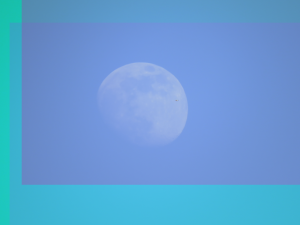 The changing position of the moon in the photographs indicates that the camera was being held or pointed in different directions on a tripod. The witness confirmed in follow-up communications that the camera was being held.
When comparing all three images pixel for pixel, the moon in each image is identical.
With a change of position of the camera, the moon should have slight variations in each photograph. The fact that it does not suggests that the images were digitally modified, copying the same image of the moon into all three photographs.
Problem #3
Camera sensors create a high frequency noise pattern over an entire image.
In this photograph the moon and sky have this pattern, but the dot does not.
The fact that the dot does not have this pattern suggests that it was digitally inserted into the image.
Problem #4
Through investigation, the witness was found on Facebook using only publicly available information. Recent (public) posts include one of his own Photoshop works with a hidden "easter egg" that he inserted, wherein he invites his friends to attempt to find it.
Other posts highlight his Photoshop skills, along with his web  and graphics design career.
It is for this (and other) reasons we decided to strip the name of the "witness" off this report, and post it as Anonymous.
Conclusion
These photographs do not stand up to digital scrutiny and therefore must be labeled fraudulent.
There is additional information which TBV Investigations has left off this report.  We feel the above information is more than enough to support this conclusion, and we do not aim to enhance digital manipulation techniques.
Witness Responds to Digital Manipulation Claim
Note from The Black Vault: In the interest of fairness, the witness responded to our report prior to it being published. They felt the need to respond, and we offered to post their responses here, unedited.
This is what they submitted:
Let me address your points as we go.
#1 – Yes, I was mistaken about the burst, this was addressed and quite frankly I think I was pretty open to the idea I could have been wrong there. I do not see how this was relevant as all shots were taken within seconds of each other. They still reside in the same photo folder as the day I put them on the computer. You will see this in the video I provide.
#2 – Pixel Alignment – Please refer to the video, it shows you clearly the photographs are not only originals, but also they have never been touched. This "Impossibility" you speak of must not be that impossible, as I was able to do it without even trying. You can see in the data provided on foto forensics that no extra pixels are present, and if you look closely the object definitely occupies more than one pixel. http://fotoforensics.com/analysis.php?id=1ead3a7d9d4460762e5f34d9d97afcc85b24531e.2496806&show=ela
#3 – ELA – Well I decided to cover this in my video as well. Just to be clear the video is very informative and I believe it to address all of the issues you brought up. In the video you can see clear signs the photograph is indeed, an original and has never been saved. Not even once. Only copied from the cameras SD Card to the folder on my HDD. Here is the link to the fotoforensics analysis. http://fotoforensics.com/analysis.php?id=1ead3a7d9d4460762e5f34d9d97afcc85b24531e.2496806&show=ela
#4 – The fact I post Graphics on social media is kind of moot, I am a web designer… This is far from being able to manipulate actual photography… I work with logos and such in a digital environment, my ability to create actual real looking work is beyond my skill grade by a long shot. I am a hobby photographer too, does that mean I am not worthy of capturing an unknown object? I am also a space enthusiast with a love for the moon and sun hence why I shoot them both.
The "Technical Tells" you speak of are not there, and I am sure some sort of biased is going into your decision, whether it be my profession, my posting graphics to social media or something else. I think being as transparent as I have, it is quite unfair for you to omit data. I have submitted this photograph and proceeded to follow up with my own research and took the time to post it to you. I think I deserve your findings in totality, as to allow others to openly try and repeat the "Tests" you ran. It is only your team finding problems with the photographs, this including Mufon and independent photographers. The information I am sure will not go over my head.
I am curious as to what you think my motives here would be? Why would I go through so much work creating two extra images not even relevant to the photo with the object in it… and as you can see in the video, I would have had to make more than two extra images.
I am hoping this solidifies the trust that should be between us, I am open to dialogue and certainly am not trying to be in any way, shape, or form misleading. I didn't choose to have an object show up in my photo, I am just sharing my experience with you all at The Black Vault. I have no side motives, I'm making no money, I'm not selling prints, I actually allowed for the image to be freely downloaded by the public… (it is still available along with other findings in my google drive, everything is available to everyone, transparency) Does this really sound like a hoax? or just someone trying to share his experience?
TBV Investigations Final Response
In addition to the above statement, the witness submitted a video.  We assume by their description, they did not want it shared publicly, so we respect that and have not published it. However, we are going to respond, and ultimately leave it for all of the readers of this case to decide.
The following is from a third party consultant to TBV Investigations. Their ability for image analysis is highly credible.  We have withheld their identity (unless they give us permission later) to thwart future hoax submissions on who we call upon for help.  Their information below is very detailed, and can speak for itself.  Also, the analyst below did view the video (per the witnesses request to show to our analysts). The time codes referenced are irrelevant since the original response video by the witness is not show, but the analysis is self explanatory.
Regarding his video:
1. At 2:40, he correctly interprets the ELA result as being uniform. However, he draws an incorrect conclusion at 2:40 when he says that a resave would have removed the white noise. The white noise only gets removed if the picture is a low quality. His picture, as I previously noted, does not appear to be low quality.
2. At 5:15, he shows his camera roll.
This does not identify the pictures as being original — only that he has them in the same directory.
There's also something interesting:
At 5:25, the camera roll shows many moon pictures: 6440-6448, but we only have 6440-6442.
Picture 6444, 6445, 6446, and 6447 were visibly altered:
6444 was cropped to a square (his canon doesn't do that), recolored to a teal, and strong vignetting was added. 4665 had different color alterations. Similarly, 6446, 6447, and 6448 were all visibly altered. And this is easy to see from the thumbnail images.
This means that the known moon pictures (6440-6442) are sitting in a directory next to other pictures that were definitely altered.
3. At 5:38: Viewing metadata from Windows Properties literally proves nothing. In particular, Windows metadata viewer displays fields that do not exist in the file, and omits fields that do exist. See: http://www.hackerfactor.com/blog/index.php?%2Farchives%2F712-Metadata-Tools-of-the-Trade.html 
By the same means, at 6:35, he claims that the Microsoft property tab for "Previous Versions" says it was never resaved. However, that only applies to using Microsoft to edit pictures and retain revisioning. Again, it literally proves nothing.
4. At 6:55, he zooms in to show no photo manipulation. But again, this proves nothing.
5. At 7:20, he shows that the Microsoft properties for the created and modified dates match his claim and have not been edited. However, this just shows the metadata fields. (And it is my claim that the metadata was replaced.)
Now, let's compare his counter-argument with my original findings:
Finding #1: Burst mode — alright, he admits he was wrong. We can look past this part.
Finding #2: The pictures show the same moon at the exact same orientation relative to the camera. Yet, the moon's position changed relative to the camera. So he somehow managed to change the angle of the view of the moon, repositioning the moon in the frame, and still kept the exact same moon orientation.
This is a fun experiment to try at home: Hold the camera and take 3 pictures of a distant object — each 3 seconds apart. Then align the pictures on the object. The orientation should change. A very small object (only a few pixels in the frame) may appear to keep the orientation. A very large object, like the moon taking up 20% of the frame, should change orientation a little. Even though it is only a little different, this should be a visible difference when you overlay the two pictures and view the difference.
Then try the same experiment using a tripod — be sure the move the camera on the tripod a little so the object is not in the same relative location between frames. Again, it will change orientation.
And yet, he someone managed to take 3 pictures that all have the moon with the exact same orientation.
Here's a difference-overlay of 6440 and 6442 (11 seconds apart): http://fotoforensics.com/analysis.php?id=4a3d92dcda18e048a36bea4871c2b34948246585.2346289&fmt=orig
– There is blue sky that exists in 6442 and not 6440 — visible due to aligning the moons.
– The UFO stands out because it doesn't exist in 6442.
– There's a tiny fraction of misalignment along one edge of the moon — likely due to scaling.
However, if the moon were rotated even one degree, then we should start seeing that reddish difference edge over most of the moon's edge and most of the moon's high-contrast features. We're just not seeing that.
Even more interesting: Save the difference picture, bring it up in Gimp or Photoshop, and apply a histogram equalization to it. If you apply a histogram equalization to the difference picture, then you can see (1) moon features stand out along JPEG compression differences (expected), and (2) there is a dark swath through the moon that goes through both pictures. That dark swath should be a lighting artifact (like a lens flare), but it is in the same place in both pictures, even though the camera "moved" relative to the moon.
There's one other thing that bothers me (and makes me chuckle):
In 6440, there is no motion blur. So the object is traveling slower than the shutter speed.
A few seconds later, in 6441, it is gone. So a UFO flew into view, sat still for a photo, and then vanished. In order to vanish, it would have to travel more than half the width of the frame in 3 seconds. Assuming it is far away and not in front of the lens, that would require a very fast speed.
Now, I'm not claiming that a real extra terrestrial UFO couldn't travel really fast, but this seems like an amazing coincidence that he photographed it at the brief moment that it came to a stop.
Or maybe cloaking? Again — amazing coincidence that he photographed it right at the moment when it was about to put up the cloak.
Of course, if it were a blur from an insect that this close the the camera, then that would explain the really fast relative movement.
Regarding his written comments:
Accepted by MUFON? Good for him. MUFON didn't contact me about this picture. Had they contacted me, I would have told them the same things I told you.
"#4 – The fact I post Graphics on social media is kind of moot, I am a web designer…"
Note: You hadn't told me his name, but I got it from his youtube video.
This goes toward skillset. He clearly is capable of doing photo manipulation. This is evident in many of his pubic galleries. For example, his art gallery (LINK REMOVED TO WITHHOLD IDENTITY OF WITNESS) includes a collection of real, altered, and edited photos.
What do you think? Post your comments below! 
Special Thanks
TBV Investigations team members Jeremy Enfinger, Jim Kerr, and James Clarkson all contributed to this report and analysis.
Raw Metadata
File
File Type
JPEG
File Type Extension
jpg
MIME Type
image/jpeg
Exif Byte Order
Little-endian (Intel, II)
Image Width
4608
Image Height
3456
Encoding Process
Baseline DCT, Huffman coding
Bits Per Sample
8
Color Components
3
Y Cb Cr Sub Sampling
YCbCr4:2:2 (2 1)
EXIF
Image Description
Make
Canon
Camera Model Name
Canon PowerShot SX60 HS
Orientation
Horizontal (normal)
X Resolution
180
Y Resolution
180
Resolution Unit
inches
Modify Date
2016:06:16 19:15:09
Artist
 WITHHELD
Y Cb Cr Positioning
Co-sited
Copyright
Exposure Time
1/400
F Number
6.3
ISO
100
Sensitivity Type
Standard Output Sensitivity and Recommended Exposure Index
Exif Version
0230
Date/Time Original
2016:06:16 19:15:09
Create Date
2016:06:16 19:15:09
Components Configuration
Y, Cb, Cr, –
Compressed Bits Per Pixel
3
Shutter Speed Value
1/403
Aperture Value
6.3
Max Aperture Value
6.3
Flash
Off, Did not fire
Focal Length
226.6 mm
User Comment
Flashpix Version
0100
Color Space
sRGB
Exif Image Width
4608
Exif Image Height
3456
Interoperability Index
R98 – DCF basic file (sRGB)
Interoperability Version
0100
Related Image Width
4608
Related Image Height
3456
Focal Plane X Resolution
18962.96296
Focal Plane Y Resolution
18989.01099
Focal Plane Resolution Unit
inches
Sensing Method
One-chip color area
File Source
Digital Camera
Custom Rendered
Normal
Exposure Mode
Auto
Digital Zoom Ratio
1
Scene Capture Type
Standard
Owner Name
GPS Version ID
2.3.0.0
Compression
JPEG (old-style)
Thumbnail Offset
19456
Thumbnail Length
1460
Thumbnail Image
(Binary data 1460 bytes)
MakerNotes
Macro Mode
Normal
Self Timer
Off
Quality
Fine
Canon Flash Mode
Off
Continuous Drive
Single
Focus Mode
Single
Record Mode
JPEG
Canon Image Size
Large
Easy Mode
Full auto
Digital Zoom
None
Contrast
Normal
Saturation
Normal
Sharpness
0
Camera ISO
Auto
Metering Mode
Evaluative
Focus Range
Auto
AF Point
Face Detect
Canon Exposure Mode
Easy
Lens Type
n/a
Max Focal Length
247 mm
Min Focal Length
3.8 mm
Focal Units
100/mm
Max Aperture
6.3
Min Aperture
8
Flash Activity
0
Flash Bits
(none)
Focus Continuous
Continuous
AE Setting
Normal AE
Image Stabilization
On (2)
Zoom Source Width
4608
Zoom Target Width
4608
Spot Metering Mode
Center
Manual Flash Output
n/a
Auto ISO
47
Base ISO
200
Measured EV
15.47
Target Aperture
6.3
Target Exposure Time
1/403
Exposure Compensation
0
White Balance
Auto
Slow Shutter
Off
Shot Number In Continuous Burst
0
Optical Zoom Code
198
Flash Guide Number
0
Flash Exposure Compensation
0
Auto Exposure Bracketing
Off
AEB Bracket Value
0
Control Mode
Camera Local Control
Focus Distance Upper
18.9 m
Focus Distance Lower
0 m
Bulb Duration
0
Camera Type
Compact
Auto Rotate
None
ND Filter
Off
Self Timer 2
0
Flash Output
0
Canon Image Type
IMG:PowerShot SX60 HS JPEG
Canon Firmware Version
Firmware Version 1.00
File Number
103-6440
Camera Temperature
32 C
Canon Model ID
PowerShot SX60 HS
Thumbnail Image Valid Area
0 0 0 0
Date Stamp Mode
Off
My Color Mode
Off
Firmware Revision
1.00 rev 6.00
Categories
(none)
Intelligent Contrast
Off
Image Unique ID
22f138b512bc4801882b04bef40a5fe3
Faces Detected
0
Time Zone
-04:00
Time Zone City
(not set)
Daylight Savings
On
AF Area Mode
Auto
Num AF Points
9
Valid AF Points
9
Canon Image Width
4608
Canon Image Height
3456
AF Image Width
100
AF Image Height
100
AF Area Widths
18 18 18 18 18 18 18 18 18
AF Area Heights
18 18 18 18 18 18 18 18 18
AF Area X Positions
-18 0 18 -18 0 18 -18 0 18
AF Area Y Positions
-18 -18 -18 0 0 0 18 18 18
AF Points In Focus
3
Aspect Ratio
4:3
Cropped Image Width
4608
Cropped Image Height
3456
Cropped Image Left
0
Cropped Image Top
0
VRD Offset
0
XMP
Rating
0
MPF
MPF Version
0100
Number Of Images
2
MP Image Flags
Dependent child image
MP Image Format
JPEG
MP Image Type
Large Thumbnail (full HD equivalent)
MP Image Length
128806
MP Image Start
2368000
Dependent Image 1 Entry Number
0
Dependent Image 2 Entry Number
0
Preview Image
(Binary data 128806 bytes)
Composite
Aperture
6.3
Drive Mode
Single-frame Shooting
Lens
3.8 – 247.0 mm
Lens ID
Unknown 3-247mm
Scale Factor To 35 mm Equivalent
5.6
Shooting Mode
Full auto
Shutter Speed
1/400
Circle Of Confusion
0.005 mm
Depth Of Field
0.11 m (9.39 – 9.51 m)
Field Of View
1.6 deg
Focal Length
226.6 mm (35 mm equivalent: 1271.5 mm)
Hyperfocal Distance
1522.21 m
Image Size
4608×3456
Lens
3.8 – 247.0 mm (35 mm equivalent: 21.3 – 1385.8 mm)
Light Value
14.0
Megapixels
15.9
Image 2
File
File Type
JPEG
File Type Extension
jpg
MIME Type
image/jpeg
Exif Byte Order
Little-endian (Intel, II)
Image Width
4608
Image Height
3456
Encoding Process
Baseline DCT, Huffman coding
Bits Per Sample
8
Color Components
3
Y Cb Cr Sub Sampling
YCbCr4:2:2 (2 1)
EXIF
Image Description
Make
Canon
Camera Model Name
Canon PowerShot SX60 HS
Orientation
Horizontal (normal)
X Resolution
180
Y Resolution
180
Resolution Unit
inches
Modify Date
2016:06:16 19:15:12
Artist
WITHHELD
Y Cb Cr Positioning
Co-sited
Copyright
Exposure Time
1/400
F Number
6.3
ISO
100
Sensitivity Type
Standard Output Sensitivity and Recommended Exposure Index
Exif Version
0230
Date/Time Original
2016:06:16 19:15:12
Create Date
2016:06:16 19:15:12
Components Configuration
Y, Cb, Cr, –
Compressed Bits Per Pixel
3
Shutter Speed Value
1/403
Aperture Value
6.3
Max Aperture Value
6.3
Flash
Off, Did not fire
Focal Length
226.6 mm
User Comment
Flashpix Version
0100
Color Space
sRGB
Exif Image Width
4608
Exif Image Height
3456
Interoperability Index
R98 – DCF basic file (sRGB)
Interoperability Version
0100
Related Image Width
4608
Related Image Height
3456
Focal Plane X Resolution
18962.96296
Focal Plane Y Resolution
18989.01099
Focal Plane Resolution Unit
inches
Sensing Method
One-chip color area
File Source
Digital Camera
Custom Rendered
Normal
Exposure Mode
Auto
Digital Zoom Ratio
1
Scene Capture Type
Standard
Owner Name
GPS Version ID
2.3.0.0
Compression
JPEG (old-style)
Thumbnail Offset
19456
Thumbnail Length
1451
Thumbnail Image
(Binary data 1451 bytes)
MakerNotes
Macro Mode
Normal
Self Timer
Off
Quality
Fine
Canon Flash Mode
Off
Continuous Drive
Single
Focus Mode
Single
Record Mode
JPEG
Canon Image Size
Large
Easy Mode
Full auto
Digital Zoom
None
Contrast
Normal
Saturation
Normal
Sharpness
0
Camera ISO
Auto
Metering Mode
Evaluative
Focus Range
Auto
AF Point
Face Detect
Canon Exposure Mode
Easy
Lens Type
n/a
Max Focal Length
247 mm
Min Focal Length
3.8 mm
Focal Units
100/mm
Max Aperture
6.3
Min Aperture
8
Flash Activity
0
Flash Bits
(none)
Focus Continuous
Continuous
AE Setting
Normal AE
Image Stabilization
On (2)
Zoom Source Width
4608
Zoom Target Width
4608
Spot Metering Mode
Center
Manual Flash Output
n/a
Auto ISO
47
Base ISO
200
Measured EV
15.47
Target Aperture
6.3
Target Exposure Time
1/403
Exposure Compensation
0
White Balance
Auto
Slow Shutter
Off
Shot Number In Continuous Burst
0
Optical Zoom Code
198
Flash Guide Number
0
Flash Exposure Compensation
0
Auto Exposure Bracketing
Off
AEB Bracket Value
0
Control Mode
Camera Local Control
Focus Distance Upper
24.43 m
Focus Distance Lower
0 m
Bulb Duration
0
Camera Type
Compact
Auto Rotate
None
ND Filter
Off
Self Timer 2
0
Flash Output
0
Canon Image Type
IMG:PowerShot SX60 HS JPEG
Canon Firmware Version
Firmware Version 1.00
File Number
103-6441
Camera Temperature
32 C
Canon Model ID
PowerShot SX60 HS
Thumbnail Image Valid Area
0 0 0 0
Date Stamp Mode
Off
My Color Mode
Off
Firmware Revision
1.00 rev 6.00
Categories
(none)
Intelligent Contrast
Off
Image Unique ID
23f1c6b512bc4801882b04bef40a5fe3
Faces Detected
0
Time Zone
-04:00
Time Zone City
(not set)
Daylight Savings
On
AF Area Mode
Auto
Num AF Points
9
Valid AF Points
9
Canon Image Width
4608
Canon Image Height
3456
AF Image Width
100
AF Image Height
100
AF Area Widths
18 18 18 18 18 18 18 18 18
AF Area Heights
18 18 18 18 18 18 18 18 18
AF Area X Positions
-18 0 18 -18 0 18 -18 0 18
AF Area Y Positions
-18 -18 -18 0 0 0 18 18 18
AF Points In Focus
4
Aspect Ratio
4:3
Cropped Image Width
4608
Cropped Image Height
3456
Cropped Image Left
0
Cropped Image Top
0
VRD Offset
0
XMP
Rating
0
MPF
MPF Version
0100
Number Of Images
2
MP Image Flags
Dependent child image
MP Image Format
JPEG
MP Image Type
Large Thumbnail (full HD equivalent)
MP Image Length
129309
MP Image Start
2372608
Dependent Image 1 Entry Number
0
Dependent Image 2 Entry Number
0
Preview Image
(Binary data 129309 bytes)
Composite
Aperture
6.3
Drive Mode
Single-frame Shooting
Lens
3.8 – 247.0 mm
Lens ID
Unknown 3-247mm
Scale Factor To 35 mm Equivalent
5.6
Shooting Mode
Full auto
Shutter Speed
1/400
Circle Of Confusion
0.005 mm
Depth Of Field
0.19 m (12.12 – 12.31 m)
Field Of View
1.6 deg
Focal Length
226.6 mm (35 mm equivalent: 1271.5 mm)
Hyperfocal Distance
1522.21 m
Image Size
4608×3456
Lens
3.8 – 247.0 mm (35 mm equivalent: 21.3 – 1385.8 mm)
Light Value
14.0
Megapixels
15.9
Image 3
File
File Type
JPEG
File Type Extension
jpg
MIME Type
image/jpeg
Exif Byte Order
Little-endian (Intel, II)
Image Width
4608
Image Height
3456
Encoding Process
Baseline DCT, Huffman coding
Bits Per Sample
8
Color Components
3
Y Cb Cr Sub Sampling
YCbCr4:2:2 (2 1)
EXIF
Image Description
Make
Canon
Camera Model Name
Canon PowerShot SX60 HS
Orientation
Horizontal (normal)
X Resolution
180
Y Resolution
180
Resolution Unit
inches
Modify Date
2016:06:16 19:15:20
Artist
WITHHELD
Y Cb Cr Positioning
Co-sited
Copyright
Exposure Time
1/400
F Number
6.3
ISO
100
Sensitivity Type
Standard Output Sensitivity and Recommended Exposure Index
Exif Version
0230
Date/Time Original
2016:06:16 19:15:20
Create Date
2016:06:16 19:15:20
Components Configuration
Y, Cb, Cr, –
Compressed Bits Per Pixel
3
Shutter Speed Value
1/403
Aperture Value
6.3
Max Aperture Value
6.3
Flash
Off, Did not fire
Focal Length
226.6 mm
User Comment
Flashpix Version
0100
Color Space
sRGB
Exif Image Width
4608
Exif Image Height
3456
Interoperability Index
R98 – DCF basic file (sRGB)
Interoperability Version
0100
Related Image Width
4608
Related Image Height
3456
Focal Plane X Resolution
18962.96296
Focal Plane Y Resolution
18989.01099
Focal Plane Resolution Unit
inches
Sensing Method
One-chip color area
File Source
Digital Camera
Custom Rendered
Normal
Exposure Mode
Auto
Digital Zoom Ratio
1
Scene Capture Type
Standard
Owner Name
GPS Version ID
2.3.0.0
Compression
JPEG (old-style)
Thumbnail Offset
19456
Thumbnail Length
1446
Thumbnail Image
(Binary data 1446 bytes)
MakerNotes
Macro Mode
Normal
Self Timer
Off
Quality
Fine
Canon Flash Mode
Off
Continuous Drive
Single
Focus Mode
Single
Record Mode
JPEG
Canon Image Size
Large
Easy Mode
Full auto
Digital Zoom
None
Contrast
Normal
Saturation
Normal
Sharpness
0
Camera ISO
Auto
Metering Mode
Evaluative
Focus Range
Auto
AF Point
Face Detect
Canon Exposure Mode
Easy
Lens Type
n/a
Max Focal Length
247 mm
Min Focal Length
3.8 mm
Focal Units
100/mm
Max Aperture
6.3
Min Aperture
8
Flash Activity
0
Flash Bits
(none)
Focus Continuous
Continuous
AE Setting
Normal AE
Image Stabilization
On (2)
Zoom Source Width
4608
Zoom Target Width
4608
Spot Metering Mode
Center
Manual Flash Output
n/a
Auto ISO
47
Base ISO
200
Measured EV
15.47
Target Aperture
6.3
Target Exposure Time
1/403
Exposure Compensation
0
White Balance
Auto
Slow Shutter
Off
Shot Number In Continuous Burst
0
Optical Zoom Code
198
Flash Guide Number
0
Flash Exposure Compensation
0
Auto Exposure Bracketing
Off
AEB Bracket Value
0
Control Mode
Camera Local Control
Focus Distance Upper
11.29 m
Focus Distance Lower
0 m
Bulb Duration
0
Camera Type
Compact
Auto Rotate
None
ND Filter
Off
Self Timer 2
0
Flash Output
0
Canon Image Type
IMG:PowerShot SX60 HS JPEG
Canon Firmware Version
Firmware Version 1.00
File Number
103-6442
Camera Temperature
32 C
Canon Model ID
PowerShot SX60 HS
Thumbnail Image Valid Area
0 0 0 0
Date Stamp Mode
Off
My Color Mode
Off
Firmware Revision
1.00 rev 6.00
Categories
(none)
Intelligent Contrast
Off
Image Unique ID
2cf1d4b512bc4801882b04bef40a5fe3
Faces Detected
0
Time Zone
-04:00
Time Zone City
(not set)
Daylight Savings
On
AF Area Mode
Auto
Num AF Points
9
Valid AF Points
9
Canon Image Width
4608
Canon Image Height
3456
AF Image Width
100
AF Image Height
100
AF Area Widths
18 18 18 18 18 18 18 18 18
AF Area Heights
18 18 18 18 18 18 18 18 18
AF Area X Positions
-18 0 18 -18 0 18 -18 0 18
AF Area Y Positions
-18 -18 -18 0 0 0 18 18 18
AF Points In Focus
1
Aspect Ratio
4:3
Cropped Image Width
4608
Cropped Image Height
3456
Cropped Image Left
0
Cropped Image Top
0
VRD Offset
0
XMP
Rating
0
MPF
MPF Version
0100
Number Of Images
2
MP Image Flags
Dependent child image
MP Image Format
JPEG
MP Image Type
Large Thumbnail (full HD equivalent)
MP Image Length
129397
MP Image Start
2365952
Dependent Image 1 Entry Number
0
Dependent Image 2 Entry Number
0
Preview Image
(Binary data 129397 bytes)
Composite
Aperture
6.3
Drive Mode
Single-frame Shooting
Lens
3.8 – 247.0 mm
Lens ID
Unknown 3-247mm
Scale Factor To 35 mm Equivalent
5.6
Shooting Mode
Full auto
Shutter Speed
1/400
Circle Of Confusion
0.005 mm
Depth Of Field
0.04 m (5.62 – 5.67 m)
Field Of View
1.6 deg
Focal Length
226.6 mm (35 mm equivalent: 1271.5 mm)
Hyperfocal Distance
1522.21 m
Image Size
4608×3456
Lens
3.8 – 247.0 mm (35 mm equivalent: 21.3 – 1385.8 mm)
Light Value
14.0
Megapixels
15.9