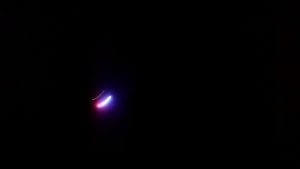 I was coming home from work last night and saw these lights and got a photo before they disappeared. It was far I zoomed in for the pic.
It was moving west too East Mabey 45 or 50 degree angle or so as far as speed I have no idea I only saw it for about 30 to 35 sec before it went out of sight. Id say just a guess 1000 yards or so away hard to judge that at night.
That is how it looked when I took the photo.
It was taken about 3 miles north from a town called Marengo, Ohio on County Road 25 on  at around 7:30 in the evening.