KNOWN HOAX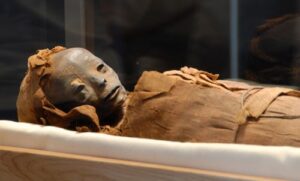 Note from The Black Vault:  In hopes other users could shed light on this, this case received a lot of feedback after I decided to post it.  I believe after seeing the photo above, and after seeing what appears to be the original (and later "photoshopped" image) that this case can be solved as a fake.
Extraterrestrial Mummy Found In Egypt
By Derwin Sherwood, Global Illumination Council (GIC),
September 28, 2012 – The body of a perfectly preserved, carefully mummified an alien was found buried in an ancient pyramid. A mysterious creature from between 150 and 160 centimeters was found by an archaeologist near Lahun when exploring a small pyramid near the Dynasty doceaba of Senusret II. However, this fact was not revealed immediately.
"The mummy of what appears to be an alien, dates back more than 2000 years and it seems it would be a humanoid" said a source at the Egyptian Antiquities Department, who provided details and photographs of the find but did so under condition anonymity. "
These remains like an alien strangers have created much controversy in the world.
Some online sources said that this is a species-being for its fur and reptilian traits that characterize them, such as their eyes, too large and oval shaped. Inscriptions on the tomb of the mummy showed that the king was a counselor named Osirunet, meaning star or sent from heaven. " The mummified body was buried with great respect and care, accompanied by a number of strange objects far from the archaeological museum managers can not identify.
Source and special thanks: GIC
Follow The Black Vault on Social Media: