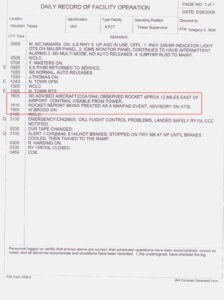 Date of Sighting: May 26, 2008 (Memorial Day)
Time of Sighting: Around 10:30 AM CDT
Date Sighting Reported: May 26, 2008
Duration of Sighting: Few Seconds
Location of Sighting: Few Miles East of Houston, TX International Airport
Latitude: 29.7 Degrees North
Longitude: 95.2 Degrees West
Number of Witnesses: Flight Crew & FAA Tower Personnel
Number of Witnesses Interviewed: None (Report Was Gathered From Media)
Weather: Skies Were Mostly Cloudy (Broken Cloud) at 3,500 Feet & Mostly Cloudy (Broken Cloud) at 25,000 Feet. Visibility Was 10 Miles. Winds Were From the South at 13 MPH.
Description: Shortly after takeoff on Runway 150 Left (towards south-southeast) a Continental Airlines Passenger Jet (Flight Number 1544 – Boeing 737) saw what appeared to be a rocket at his "12 o'clock position" traveling straight up leaving a contrail. The jet was en-route to Cleveland, Ohio. Apparently the FBI has concluded that the rocket was a model rocket. However, interviews with model "rocketeers" has not supported this conclusion. The location is "out-of-range" of most hobbyist-level model rockets. Apparently the pilot took made no maneuvers to avoid collision with the object. According to the second tape below the FAA treated this incident as a "man-pad" event. Man- pad is the abbreviation for "man- portable" air defense and refers to the firing of a hand held (shoulder) fired missile (e.g. Stinger missile).
Listen to Radio Communication of Airline Reporting Incident to FAA

https://www.theblackvault.com/casefiles/wp-content/uploads/2015/04/houstracon1544.mp3

Listen to FAA Supervisor Discussing Incident

https://www.theblackvault.com/casefiles/wp-content/uploads/2015/04/superviscabinfaa.mp3
Comments: I have completed analysis of the radar data obtained from the FAA. The radar track of the aircraft indicates that the pilot took no evasive action to avoid collision with the object and that the object was not detected by radar. (Detected primary returns were not straight ahead of Continental Airlines #1544. See radar plot above.) The identity of this object has not been determined. Original statements made by the FAA and FBI concluded that the object was a model rocket. However, in the tape above the FAA treated the incident as an act of terrorism. A FOIA filed with the FBI produced a response that "no records were found responsive to your request." This response was received despite the fact that the FBI public ally originally said that the object was a model rocket. (See later statement by FBI below.) Why the deception? Updates to this case will be posted.
An article about the incident appeared in the July 3, 2008 online issue of rocketyplanet.com (http://www.rocketryplanet.com). To quote from the article: "FBI spokeswoman Shauna Dunlap, who said her agency routinely looks into suspicious activity involving aircraft, said agents have not yet identified what the pilot saw out there."
---
The following was published by Channel 5 News Cleveland-Akron, Ohio on May 27, 2008:
CLEVELAND — The FBI is investigating an unidentified object seen near a Cleveland-bound Continental Airlines plane just after it departed from Houston. FBI officials said a Continental Airlines pilot told air traffic controllers that an object with a flaming tail and a trail of smoke flew in front of the plane shortly after takeoff.
The FBI's Joint Terrorism Task Force is involved in the investigation, but officials say they believe the flaming projectile seen by the pilot just east of Houston's airport Monday was a model rocket. Federal Aviation Administration spokesman Roland Herwig says officials are unsure how high the object flew or how close it came to the plane. An FBI representative said the plane wasn't in any danger, it landed safely Monday.
The Boeing 737 was carrying 148 passengers. The FBI routinely looks into any suspicious activity that involves an airplane.