The following case was submitted to UFOs NorthWest, and is used here with permission.
Location of Sighting: Olalla, Washington
Date of Sighting: September 8, 2016
Time of Sighting: 8:21 PM PDT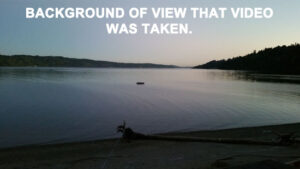 Description: Hi, I live in Olalla, WA on the water. I see quite a bit of military aircraft that fly between Bremerton & JBLM (Joint Base Lewis-McChord) Air Force Base. I saw several big helicopters fly over yesterday & a fighter jet flew over around 5 PM tonight.
At 8:21 tonight I saw 2 sets of 3 lights blinking together over where the fighter jet went earlier today. I grabbed my cell phone & got some not so great pictures & video.
Look at the middle of the video.
Note from UFOs NorthWest: It is difficult to determine the background of the video. I don't believe that the lights were ground lights as they were blinking. The photo above clearly shows airborne lights.
The photo taken of the actual background view where video was taken supports the fact that the lights were airborne.