by John Greenewald, Jr. — The Black Vault — Originally Published October 25, 2020
For the past 24 years, The Black Vault has gone after UFO documents from nearly every government agency that exists. Although thousands of pages have been released in that process, and subsequently archived on the site for others to download, there are many pages that still remain classified that the government will not release.  The National Security Agency (NSA) just confirmed again they not only have Top Secret UFO material, they will also not declassify it for national security reasons.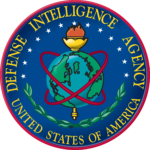 The lineage of this particular request goes back eleven years to 2009 when The Black Vault sought additional UFO related material from the Defense Intelligence Agency (DIA). Originally, The Black Vault had already received hundreds of pages of related material in 1996, but this 2009 request sought new records created after 1996. During the course of this case, it was discovered that five pages of material existed, but the NSA was the agency responsible for declassification. Therefore, the pages were forwarded there for review and possible release.
In August of 2012, three years after the request was filed for records dated after 1996, the NSA denied the request. The Black Vault was told that the information was classified Top Secret, and could not be released because it would "be expected to cause exceptionally grave damage to the national security." In addition, the NSA referenced a common go-to explanation for the UFO phenomena that was rooted in decades prior: weather balloons.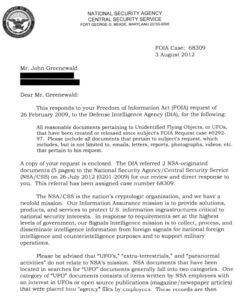 "['Unidentified aircraft' or 'unidentified (flying) object'] are simply terms that are used to describe conventional aircraft or objects (possibly weather balloons) that have been identified as such at the time of the report," the letter from the NSA explained. "The reports themselves are not focused on 'UFOs,' but happen to contain terms related to them. The 2 documents (5 pages) referred by DIA fits this category and have been reviewed by this Agency as required by the FOIA and have been found to be currently and properly classified in accordance with Executive Order 13526."
In October of 2019, The Black Vault would try again, and filed a Mandatory Declassification Review (MDR) request to the NSA to re-review the five Top Secret pages to see if they could be released. Nearly a year later, the NSA denied the release yet again, as the documents properly maintained a Top Secret classification and could not be released.
The reason for the denial by the NSA was explained with a specific citation within Executive Order 13526. The citation identified the documents as pertaining to "intelligence activities (including covert action), intelligence sources or methods, or cryptology."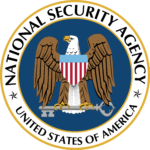 Although there are still thousands of UFO related records that have been declassified and released by the Intelligence Community (IC); there is no doubt that the pages that still remain classified — like these five pages that were denied —  certainly show more of the picture.
The question is, will we ever see them?
###