Background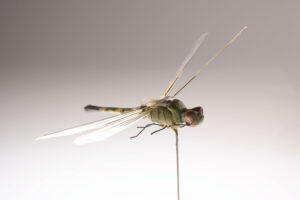 The Insectothopter was a miniature unmanned aerial vehicle developed by the United States Central Intelligence Agency's research and development office in the 1970s. The Insectothopter was the size of a dragonfly, and was hand-painted to look like one. It was powered by a small gasoline engine to make the wings move and was fueled by a very small amount of gas. The project was abandoned when the Insectothopter was found to be too difficult to control in crosswinds.
It took nearly seven years for documents to be released on the Insectothopter. They were finally received in January of 2020 (release letter dated 16 December 2019).
The CIA also produced and released the below video, which has been available since circa 2015. However, the documents have never been released before now.
Document Archive

CIA Documents on the Insectothopter, Released December 2019 and Received January of 2020 [28 Pages, 10MB]
Video Archive