Background
The United States Office of Government Ethics (OGE) is an independent agency within the executive branch of the U.S. Federal Government which is responsible for directing executive branch policies relating to the prevention of conflict of interest on the part of Federal executive branch officers and employees. Under the Ethics in Government Act, this agency was originally part of the Office of Personnel Management from 1978 until it separated in 1989.
On November 20, 2016, in a rare occurrence, the OGE tweeted to President-elect Donald Trump about his decisions about divesting in his business to avoid conflicts of interest. Here are a few of those tweets: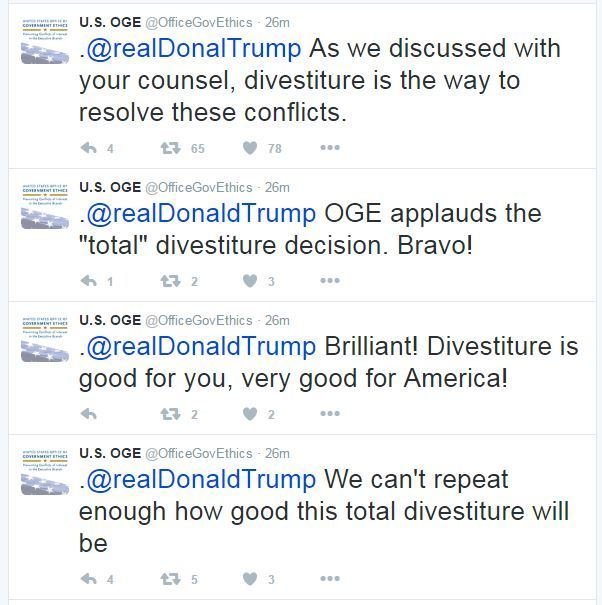 On December 16, 2016, I sent a FOIA request for e-mails to/from certain OGE employees to search the keyword TWITTER to see what was being talked about. Those employees I requested searched were:
Walter M. Shaub, Jr.
Dale A. Christopher
Barbara A. Mullen-Roth
Lori Kelly
Heather A. Jones
Seth Jaffe
Elaine Newton
Vincent J. Salamone
Monica Ashar
Rachel Dowell
Leigh J. Francis
Patrick Lightfoot
Kimberly Sikora Panza
Christopher Swartz
Rodrick Johnson
Emory Rounds
James T. Cooper
Edith M. Brown
Michael Hanson
Danny Lowery
Timothy Mallon
Leonard Upson
Shelley K. Finlayson
Diana J. Veilleux
Brandon Steele
Heidi Fischer
Elizabeth Horton
Jennifer Matis
On December 30, 2016, I received a final response.
Document Archive