Background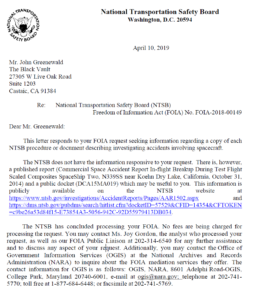 This report discusses the October 31, 2014, crash involving the SpaceShipTwo (SS2) reusable suborbital rocket, N339SS, which was operated by Scaled Composites LLC. SS2 broke up into multiple pieces during a rocket-powered test flight and impacted terrain over a 5-mile area near Koehn Dry Lake, California.
The pilot received serious injuries, and the copilot received fatal injuries. SS2 was destroyed, and no one on the ground was injured as a result of the falling debris. SS2 had been released from its launch vehicle, WhiteKnightTwo, N348MS, about 13 seconds before the structural breakup. Scaled was operating SS2 under an experimental permit issued by the Federal Aviation Administration's (FAA) Office of Commercial Space Transportation (AST) according to the provisions of 14 Code of Federal Regulations Part 437.
Safety issues include the lack of human factors guidance for commercial space operators, the efficacy and timing of the preapplication consultation process, limited interactions between the FAA/AST and applicants during the experimental permit evaluation process, missed opportunities during the FAA/AST's evaluations of hazard analyses and waivers from regulatory requirements, limited inspector familiarity with commercial space operators, an incomplete commercial space flight database for mishap lessons learned, and the need for improved emergency response planning.
Safety recommendations are addressed to the FAA and the Commercial Spaceflight Federation.
Document Archive

In-Flight Breakup During Test Flight Scaled Composites SpaceShipTwo, N339SS Near Koehn Dry Lake, California October 31, 2014 [155 Pages, 4MB]