Here is the story behind how a secretly filmed scene for a television series, "creative license" freedom, and the sharing of "classified" information in a Pentagon SCIF, all sparked a full U.S. Army investigation. After more than a year of research by The Black Vault, official U.S. Army investigative files (with some redactions) have been released via the Freedom of Information Act (FOIA) which supports that the gross misrepresentation of facts created a firestorm behind the scenes.
---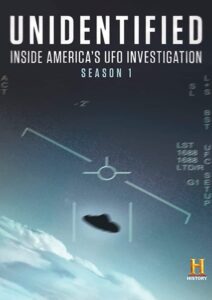 The television series "Unidentified: Inside America's UFO Investigation" which premiered on the History Channel in May of 2019 excited everyone interested in the unknown. It starred Luis Elizondo, a man who claimed to have ran a secret Pentagon UFO study "for nearly a decade", and Christopher Mellon, former United States Deputy Assistant Secretary of Defense for Intelligence (amongst others), as they investigated UFO cases and offered an exposé on the "U.S. government's secret program to investigate the UFO phenomenon."
But one scene would spark a chain of events that led to a U.S. Army investigation, and records just released about that investigation reveal that one specific story line that intrigued audiences at the time, was not entirely true as shown on screen and it misrepresented numerous facts about what was really going on within the Pentagon.
The scene in question appeared in Episode 6 of Season 1, and it aimed to remove the deep controversy surrounding this alleged UFO research program that was said to still be operating within the Pentagon. This effort was previously referred to as the the Advanced Aerospace Threat Identification Program, or AATIP, and according to Elizondo, it was he who ran it before he resigned on October 4, 2017.
This controversy surrounding AATIP stemmed from numerous Pentagon statements beginning in 2018 that claimed the "UFO program" was actually never a UFO program at all, but rather, it was created to "investigate foreign advanced aerospace weapon system applications, with future technology projections over the next 40 years." It ended in 2012, according to official statements.
The Pentagon eventually admitted in 2019 that AATIP utilized UAP reports among "a wide variety of sources" during that time, but even after admitting that, the Department of Defense (DoD) maintains "…the examination of UAP observations was not the purpose of AATIP." These Pentagon statements continue to be refuted by Elizondo.
This scene in "Unidentified" became a pivotal moment in the series where it offered proof that AATIP, or at least the same mission but operating under a different name, was still ongoing and Elizondo was still entrenched in the middle of it all.
According to the show, three individuals with their identities shielded behind a blur, were a "new team of Pentagon intelligence officers who are studying UFOs" and they were "running this [UFO investigation] effort."
They were meeting Elizondo and Tom DeLonge, a rock-star who co-founded the band Blink-182 and who served as the Executive Producer of the "Unidentified" series, in what appeared to be a hotel lobby. According to Elizondo, he met with people involved in this effort "regularly."
This meeting between Elizondo, DeLonge and three "military intelligence officers" was all caught on camera by the show's producers, seemingly adding legitimacy to the overall claim.
Here is how the scene unfolded (Can't view the YouTube video? Twitter user "Mike Colangelo" posted it here.):
But according to at least one of the people at that table, not only were they unaware they were being filmed, the scene was not portrayed accurately to the audience.
That person is a U.S. Army counterintelligence agent (CI agent), and due to the fact they still work for the U.S. government, and maintain a top secret security clearance, they have asked to remain anonymous for the purpose of this article.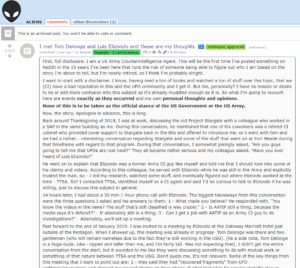 In December of 2021, this CI agent wrote a first person account of how this scene actually did go down, at least from their perspective, and it was originally posted on the social media network Reddit. Additional information was soon published thereafter by The Black Vault.
"I watched Unidentified and when we got to the part of the show where they had filmed that meeting in that hotel, I was shocked," this CI agent said. "In my opinion, that was pretty shady of Tom DeLonge and Luis Elizondo – to have that meeting take place and secretly have a cameraman up on the second floor of the lobby without notifying us."
It turns out the counterintelligence agent wasn't involved in the AATIP effort at all, nor involved in any official UFO research as portrayed in the show. This agent was simply there to see if they could work on the program, due to interest in the topic, and after hearing Elizondo's counterintelligence background which led him to allegedly having led the program. The CI agent felt his background, similar to Elizondo's, would be a benefit to the effort that was being talked about in the media.
But this was all essentially an interview meet-and-greet, and not a meeting of the "new team of Pentagon intelligence officers who are studying UFOs" as portrayed to audiences worldwide.
Though, the story goes much deeper than just a few people being misrepresented on international television. It was true that the two other unnamed individuals at the table worked at the Pentagon, and it is possible, though not officially verifiable, that they were involved in looking into UAP cases, but this also appears to be wildly misrepresented. Note: The Black Vault has uncovered the identities of the two other individuals at the table, though they will not be identified in this article for privacy reasons.
The "program" "studying UFOs" was said in the television series to be something these "Pentagon officials" were currently working on, and it had "official blessing," according to Elizondo. But, it turns out that "program" was actually inactive, and it had no funding nor was currently in operation, despite what the "Unidentified" show alleged. This is supported by the official documentation, and sworn statement by the CI agent, all of which is available for download in the document release package at the end of this article.
Despite that fact, the inactive status of the program did not deter the two Pentagon officials from taking the CI agent, who holds a top secret security clearance, into a sensitive compartmented information facility (SCIF), and presenting classified information, in hopes that should the program become active with funding, this agent could work on it. This was done after the meeting secretly filmed by producer(s) shown on  "Unidentified," was not recorded, and the fact it took place was never televised.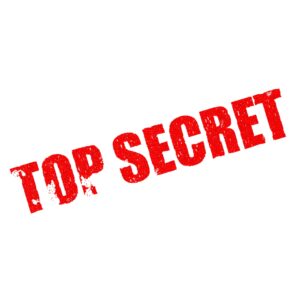 "We discussed some other stuff, one thing which I won't recount because they claimed it was SECRET//NOFORN, but I will recount the thing they claimed was TS//SCI," the CI agent recalled. "They told me of an incident where an Italian helicopter was literally shot by a UAP and had to make an emergency landing and that they had obtained this information from the Italians. A friend of mine at the time sent me a screenshot of Tom's Instagram where he discussed that exact incident with the Italian helicopter and, [if I recall correctly], it was even featured in one of the episodes of Unidentified. My response to this – was to file a report with my local field office."
For proper context on the report filed by the CI agent, there is a requirement for a clearance holder to file a report if they feel there is a potential leak of classified information. "I know that might make me look like 'the bad guy,' but if you bring a CI Agent in, tell him something is TS//SCI, then I find out a rockstar has the information and that [expletive]is on social media AND a tv show? I'm pretty much obligated to do something at that point."
The report to the U.S. Army about potential classified information leaking was quickly dropped, probably due to the fact that the information presented by the Pentagon officials to the CI agent that was said to be classified information, likely was not. It is unknown why the information would be misrepresented to the CI agent.
However, a new investigation began to look into the conduct of the agent. Responding to a question online, the CI agent explained, "When I reported my findings regarding the supposed TS/SCI material being leaked and in an online format (mind you – this is procedure and wasn't anything personal) – the investigation was terminated on the spot and they turned around and came after me for 'questionable employee activities.' This – of course – came back unfounded – as I didn't do anything wrong and had the foresight to brief my CO [Commanding Officer] and 1SG [First Sergeant] before and after I went to these meetings."
These "questionable employee activities" mostly surrounded whether or not the CI agent utilized their badge or official credentials to solicit outside employment, along with questioning whether they mishandled classified information during their interactions with DeLonge, Elizondo or the two "Pentagon officials."
A full breakdown of the objectives for the investigation were outlined in the original "Scope of Investigation/Specific Instructions" section of the 29 July 2019 "Appointment of the Investigation Officer" memorandum (available in the document packet at the end of this article).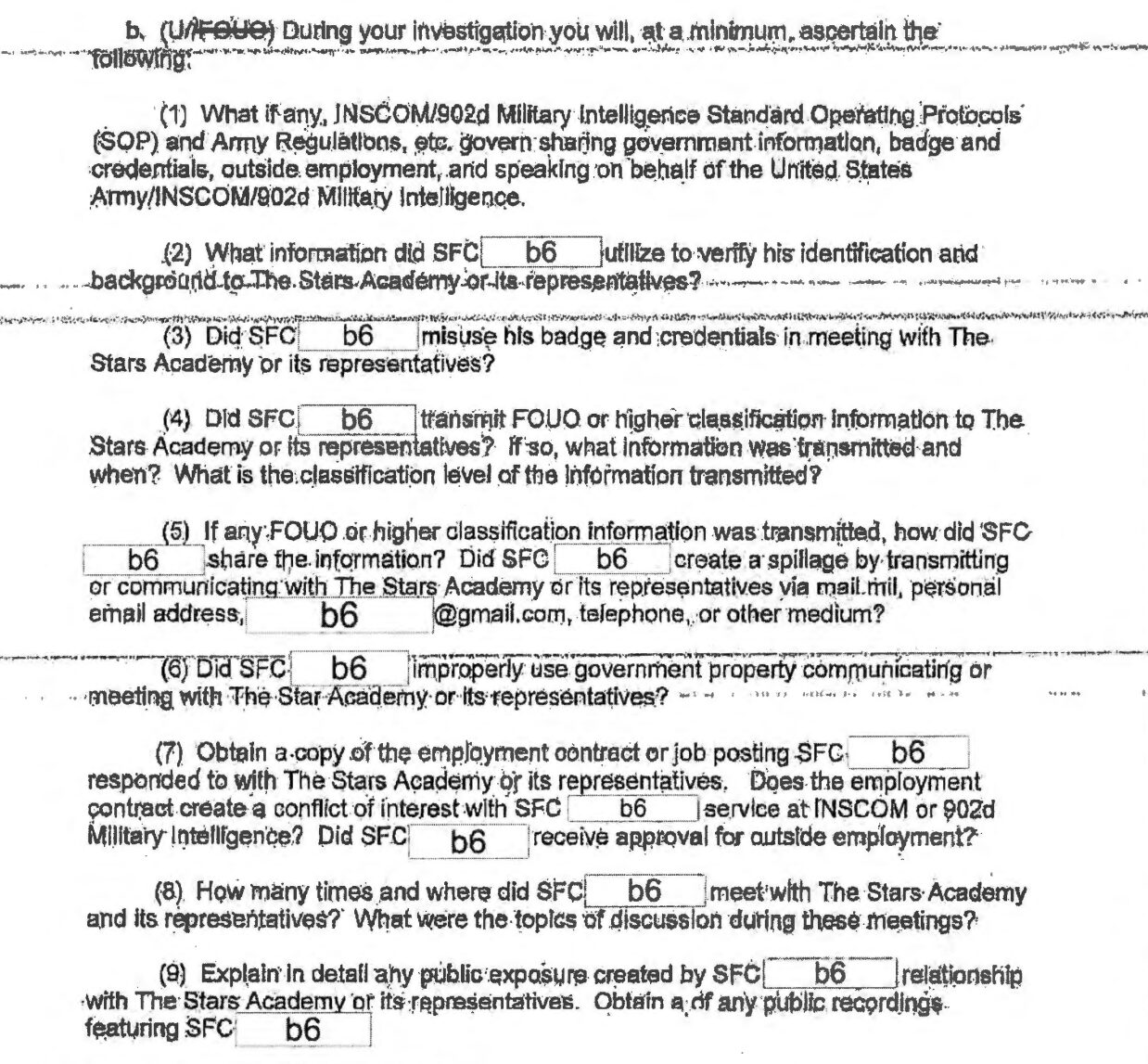 It took The Black Vault about a year to obtain the investigation files from this AR 15-6 Investigation. AR 15-6 is a reference to Army Regulation 15-6, and according to the regulation itself, it "…establishes procedures for conducting preliminary inquiries, administrative investigations, and boards of officers when such procedures are not established by other regulations or directives."
The Black Vault received 64 pages of material involving this investigation, which are all available below. There are many facts regarding the case revealed by these documents, but the key elements to what The Black Vault received were the sworn statements by the counterintelligence agent along with other witnesses; communications between Mr. Elizondo and the counterintelligence agent; emails between the two Pentagon officials in the scene above, and the counterintelligence agent; along with much more.
Prior to the release of these files, only Elizondo publicly addressed the scene that resulted in this investigation. On February 19, 2022, Elizondo posted the following on Twitter:
Though despite the claims made about the CI agent by Elizondo in the tweets above, the records appeared to contradict those, as well.
It was said in the tweet that the counterintelligence agent would "NOT be a good fit" for the job, therefore the individuals "affiliated with the [AATIP]" chose not bring the agent on board.
However, according to a sworn statement made under oath, the CI agent was asked by the two Pentagon officials to write a summary on the "Army Counterintelligence/Law Enforcement community to pave the way for UFO reporting." This fact is also supported by numerous emails back and forth, also released by the U.S. Army to The Black Vault. This part of the story was also recounted by the investigator on the case, and the below shows these facts in the "Findings and Recommendations" memorandum written by the Army investigator:
As seen in the above, and as supported by documented evidence, the CI agent was given a "lawful order" to not provide anything to the Pentagon officials, and to cease contact. This was due to the concern that a paper, as requested by the Pentagon officials, would be misconstrued as an official position paper of the U.S. Army.
Also indicated by the findings of the U.S. Army, and confirmed in the above screenshot excerpt, it was clear the two Pentagon officials had the stance that AATIP was not "operational" but the agent would be on "a short list to be an investigator if the program became fully operational again."
Elizondo's tweet also indicated the agent "misrepresented himself." No evidence has been presented to support this claim, nor was that found anywhere in the Army investigation that the CI agent did so.
When asked about the scene in question which aired on "Unidentified," and when asked about the actions that led up to the AR 15-6 investigation, Elizondo decided it best to speak through his attorney, Todd McMurtry, who conveyed Elizondo's responses to The Black Vault.
"There was no mischaracterization or misrepresentation of the meeting." Elizondo said. "[The CI Agent] met with Task Force personnel per his request while we were in D.C."  He also added that, "We were unaware filming was being conducted at the time. However, that portion of the meeting was in a public space and measures were taken to protect everyone's identity. The fact that he was filmed is inconsequential… The production team used its creative license to tell a story." (See FULL answers given by Mr. Elizondo, through his attorney, below this article.)
According to a spokesperson for A&E Network (parent company for History channel) that same month, a statement emailed to The Black Vault said simply, "The circumstances of the meeting were portrayed on-air exactly as they were conveyed to the producers by the subjects of the series. Thanks for reaching out." There was no further information offered by the network.
The Pentagon; Executive Producer DeLonge; Executive Producer Anthony Lappe; and To The Stars Media, Inc. (previously referred to as To The Stars Academy of Arts & Science [TTSA]), all did not return a request for comment.
The CI agent, while recently speaking to The Black Vault, also voiced concerns over the characterization that he was simply upset because he was passed over for a job. "This is utter nonsense," the CI agent explained. "The US government doesn't typically work on the premise of, 'Oh, this dude's cool and we shook his hand, change his entire job.' Especially not with servicemembers. There is a lot of paperwork involved. PCS orders must be cut. Applications must be filled out. Documents from the individual's record must be reviewed. Usually there are multiple interviews that take place. So on. This is how it works with actual SAPs and other closed programs throughout the IC. You don't just 'walk in and you're in.' The movies and television make it seem like that to the layperson, but that isn't anywhere close to reality. Now – is that to say that there aren't 'unique circumstances' that 'might' allow for that? Sure. But not in transferring an active duty senior NCO from the Army to suddenly working for and reporting somewhere completely different. None of that took place."
It's clear that Elizondo and this CI agent disagree on whether that scene was truly misrepresented, but they appear to agree when it comes to the fact that the three people at the table, other than DeLonge and Elizondo, can not be identified after their faces were blurred in post-production editing.
Though, the true issue with the scene does not revolve around someone being filmed in secret and whether they can, or can not, be identified through the blur. Rather, that action was simply the first domino to fall in a chain of events that led to misdirection and misrepresentation, all of which then paved the way for an official U.S. Army investigation into the conduct of the CI agent.
This misrepresentation of facts in "Unidentified" plays into a much larger narrative that has unfolded since 2017. Many claims have been made about story elements tied to a "Secret Pentagon UFO program" known as AATIP, but many of those story elements remain challenged by official statements, clear contradictions in the storyline, and little to no supporting evidence to back up claims made.
Elizondo's role in the program as "Director"; the release of the three UAP videos published by the NY Times and TTSA; who first leaked the videos to Mellon prior to taking them to the NY Times; the true scope of AATIP's mission; the question of if AATIP was even a real program, or just a nickname for another one; the idea that AATIP was actually a "secret Pentagon UFO program" or not; and the question on whether or not AATIP even had funding, are all just a few items in a long list of outstanding issues surrounding the reporting on AATIP, and the claims made about it by key players allegedly involved in it all.
###
Document Archive

Army AR 15-6 Investigation Files [64 Pages, 9MB]
Full Comments and Extra Context
In an effort for full transparency, The Black Vault publishes received comments in full. Although in the article above statements can be truncated, the effort is always to ensure nothing is out of context. To ensure that, statements received are published in full in the article, when warranted, or truncated and published in full at the end.
Below, you will find all statements received.
A&E Networks Spokesperson

Published in full.

Luis Elizondo

Todd McMurtry (Attorney)

There was no misrepresentation. The person I believe to be your Source (the "Source") in your story came to my attention from a civilian. The civilian had a friend (the Source) who was an E-7 in the U.S. Army. According to the civilian, the Source wanted to speak with me about working with the new UAP Task Force. At the time, the Task Force did not have any representatives from the Army, so I was happy to offer an introduction. During one of our breaks from filming, Tom and I met with the Source, along with two members of the UAP Task Force in the lobby of our hotel. This was a public space, and the film crew was taking B-roll around the city (as is common in television productions). I was not specifically briefed on the filming locations and was not aware anyone was filming during the relevant period. I cannot control what and why the U.S. Army conducted a 15-6 investigation but at no time was the individual identified in the show. There was no mischaracterization or misrepresentation of the meeting. He met with Task Force personnel per his request while we were in D.C.

We were unaware filming was being conducted at the time. However, that portion of the meeting was in a public space and measures were taken to protect everyone's identity. The fact that he was filmed is inconsequential. It could have been anyone. The Source was never identified.

At no time was classified information discussed or shown to the Source. We were in public spaces at the time. At no time did anyone from the Task Force or I EVER provide, display, or communicate classified or sensitive information to the individual during this meeting. Furthermore, Mr. Delonge does not hold a security clearance and therefore has never been given access to classified information by me or anyone from the Task Force. Any claim whatsoever that classified information was shared is demonstrably false As for what was posted on the social media platform, Instagram, I cannot comment because I did not see it. I do not use that specific platform.

My experience with History Channel staff has been positive and I find the employees to be very professional. I don't see anyone trying to intentionally hurt anyone. The individual was there voluntarily at his own request.

I haven't read the investigation and cannot nor will I speak for the U.S. Army. I was not asked to be part of this investigation and therefore cannot comment regarding intent, purpose, or outcome. This is official Government business to which I am not privy. Nevertheless, my understanding is that the investigation found no wrongdoing. I am not sure how such a finding supports an assertion that there was wrongdoing. All I did was help the Source get an interview with the Task Force.

The other two unnamed individuals were current members of the UAP Task Force. The same individuals the Source met originally in the hotel lobby and that he requested to meet. What they did after our meeting I was not made aware and had no business knowing. Knowing the two Task Force members, if the information the individuals was shown was classified, then I assure you it was only provided within a controlled, appropriately classified facility. Given that the individual was
trying to gain employment with the Task Force, it is likely the two Task Force members were determining if the individual would be a good fit for the team. I am confident all three individuals maintained TS/SCI security clearances and therefore what was shared by Task Force members is up to their discretion. As for what was allegedly posted on Instagram, I cannot comment because I do not have that platform. I recommend you ask Mr. Delonge. However, at no time was classified information ever shared with Mr. Delonge by me or anyone else I know.

Your assumption is that the meeting was secretly recorded. It was not. This was B-role. The production team used its creative license to tell a story. The Source's identity was never revealed. Thus, the conclusion from the false premise is unsound. You are not getting the full details from your Source. You are choosing to only listen to one perspective without full knowledge of what transpired. The facts remain clear:
a. Your source requested a meeting with Task Force personnel;
b. I arranged it;
c. He met with them (apparently several times);
d. Our initial meeting occurred in a public space;
e. He was recorded in the normal course of production;
f. History Channel hid his identity;
g. I never discussed classified information with him (to suggest I did is extremely damaging to my reputation and endangers my security clearance upon which I rely to make a living); and
h. He was not selected to be part of the Task Force for specific reasons.

Two members of the Task Force were considering bringing the individual on board. However, once it was learned the individual authored a fictional book about aliens and the military years prior, Task Force personnel wanted someone more objective and not someone who authored a fictional story about the
topic. Task Force personnel are serious in their efforts and would not be comfortable with anyone who may have preconceived notions about UAPs.

Note from The Black Vault: Dr. Travis Taylor, who has been reported as the "Chief Scientist" for the UAP Task Force, was the author of approximately 20 fictional science fiction stories, many involving various alien races. It is unclear why the fact the CI agent wrote one story was problematic to the "effort."

I do not believe I have disparaged this individual. I have gone out of my way to protect the integrity and dignity of our men and women in uniform.

Counterintelligence Agent – Full Name Withheld

Before I provide any responses or any comments, I want to reiterate, as I did in the Reddit post and subsequent comments on that post, that I do not and did not have any direct issues with Mr. Elizondo. To clarify, he did exactly what he said he would when we first spoke and I was introduced to and had a follow-up meeting with two guys from the Pentagon who were supposedly still involved with "AATIP." Anything further that occurred was not something Mr. Elizondo had any part in, nor was responsible for.

I just need to make that clear, because the impression I got after the Reddit post back in 2021 was that this was some kind of adversarial thing between me and him, Tom DeLonge, etc. and this is not the case. If I had to point to any persons involved in all this that I could be said to "have taken issue with" it would be the guys who sat in that classified conference room in the Pentagon and lied to my face, then tried to change their stories after the fact, and my fellow agent/agents who – after I reported what appeared to be a direct leak of TS//SCI information onto Instagram – turned the entire thing around on me under the auspices of a "questionable employee activities" investigation.

Regarding classified information. Mr. Elizondo is correct that at that first meeting in the hotel lobby – no classified information was discussed. At all. However, a month later in the Pentagon, the two individuals he introduced me to specifically and clearly identified two areas in that conference room which they claimed were TS/SCI and S/NF. That absolutely did occur and for the one who said it out loud, who I will not name out of respect for their privacy but who I assume will likely read this: the fact that you would sit an active counterintelligence agent down in a room, cleared for up to TS/SCI discussions, in the Pentagon – then – look him in the face, say something is classified, then turn around and try to lie about it?

Look.

I was an agent for 15 out of the 20 years I was in the Army. I like to think I'm not a very easy target for people wanting to bullshit me, and regarding specifically and only that meeting at the Pentagon, that was when my bs detector started pinging. It was confirmed after I confronted that gentleman via email about why the stuff he claimed was TS/SCI was suddenly on Instagram a month or so later and there he was saying "we never said that."

What I think actually happened is either he was trying to make this stuff sound cooler than it was by tossing in a classification level and perhaps wasn't aware of what a counterintelligence agent is, or maybe didn't realize that I was an agent when we spoke – or – the shit was actually TS/SCI and they leaked it to Tom DeLonge as part of this larger initiative at the time. But I have no proof of that and am not pointing fingers.

Either way – the basic formula is – TS stays in SCIFs and on cleared systems. It shows up somewhere else, it gets reported. I followed that formula. The other item he claimed was S/NF has remained sealed lips since – as I have never seen it anywhere else in the public domain.

Regarding "employment" because this needs its own entire response.

There is some narrative-shaping taking place that started with that Reddit post regarding this in a rather amateur attempt to paint me as some sort of "disgruntled dude who got passed over." This is silly. Let me explain.

First, as I stated above. There was no functioning program in existence at the time this took place. I keep reiterating that over and over. Your own FOIA efforts, the Pentagon, and even the guys in that meeting all concurred that it was not functional due to lack of funding. I confirmed it myself with my own digging from other channels as well before even meeting these people. Period. "AATIP" at that time existed only in the sense that some individuals who perhaps had been part of it when it was operational were still interested in the subject matter and were working to keep it alive in the background. AATIP and its functions were not these two guys' primary job titles or roles in the Pentagon at the time we all met. At all. Again – out of respect for privacy, I won't go into further detail, but these were USG employees doing normal 9-5 jobs in two separate sections from one another.

Second, I need to reiterate. I was and am no "Fox Mulder" type. I wasn't starry-eyed, don't believe in conspiracy theories, wasn't chasing after some experience. I found the topic of UFOs "interesting" and when it was discussed with me that it was a potential job opportunity that I could do to ride out the last few years in the service, I thought "why not." So – even if there had been a real position – which there wasn't, I wouldn't have been mad, or salty, or angry, or sad that I didn't "get the job." You don't spend as long as I did in the service and as an agent and have freakouts or breakdowns over not getting a position. That's just how the Army works. You get some jobs; you don't get some jobs. You still have the same paycheck, the same rank, the same retirement plan, etc. No sense for many people to get emotional over any of it. Further – if I was that hotheaded, I wouldn't have sat on the story for nearly 2 years or so then took to Reddit to complain about it.

Third, regarding the "process" of "applying." The US government doesn't typically work on the premise of "oh, this dude's cool and we shook his hand, change his entire job." Especially not with servicemembers. There is a lot of paperwork involved. PCS orders must be cut. Applications must be filled out. Documents from the individual's record must be reviewed. Usually there are multiple interviews that take place. So on. This is how it works with actual SAPs and other closed programs throughout the IC. You don't just "walk in and you're in." The movies and television make it seem like that to the layperson, but that isn't anywhere close to reality. Now – is that to say that there aren't "unique circumstances" that "might" allow for that? Sure. But not in transferring an active duty senior NCO from the Army to suddenly working for and reporting somewhere completely different.

None of that took place.

There were two and only two in-person meetings: A hotel lobby and a SCIFed conference room at the Pentagon. That's it. There were no further face-to-face meetings.

Further comms with the two guys at the Pentagon were conducted via SIPRNET email.

The only thing that was an "attempt at forward movement" was the request that I author a document explaining some of the key issues with UAPs and UAP reporting channels within the US Army. Once this request was made, I was given a cease and desist by my chain due to the concern that I would in effect be "speaking on behalf of the entire Army" if that document were sent higher or were part of a larger package that worked its way up within the Pentagon, and a random SFC usually isn't the best voice to speak for the "entire Army." I believe I even explained that to the gentlemen via SIPRNET email after I was given the cease and desist. After this, communications died off.

If I had to point to one thing that I'm agitated about regarding Mr. Elizondo, it's that he seems to be attempting to categorize all of this as if I was passed over and got upset or am attempting to retaliate. This is utter nonsense. As I opened with – I have zero issues with him – whether personally or professionally and the Twitter comments I was made aware of and the activity I saw on the Reddit post and subsequent follow-on threads/discussions with his alternate social media accounts were a bit surprising considering that I, at no time, have ever demeaned, insulted, or brought him or his story into serious question, even in that Reddit post from 2021.

I appreciate that you're still working this, as the topic does still interest me. However, after the shitstorm all of this caused back in early 2019, I slowly lost interest in serious pursuit of any of this information aside from reading occasional stories here and there and keeping up with anything that hits the news. I was made a moderator of r/aliens shortly after that post in 2021. I'll refrain from going into the weeds about my thoughts regarding that, but I remain on the fence as far as whether aliens are here or whatever.

Regarding an in-person interview. I'm sincerely sorry, but I'm still not keen on it because I'm not necessarily comfortable with r/UFOs or r/Aliens knowing my actual identity. I would like to indirectly thank Mr. Elizondo for not revealing my identity as well. That hasn't gone unnoticed. I still hold an active clearance and am still employed with the USG – no longer doing CI since retirement, but such that I don't need anyone calling work or harassing anyone that could affect my paycheck or livelihood. I can – now – however, send you photos of my retired CI B&Cs on plaques w/ identification removed if that'll help serve as further verification of my identity or credibility.

Note from The Black Vault: See photographs of the referenced identification to the left of these comments.
Follow The Black Vault on Social Media: