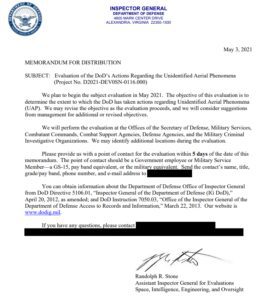 In May 2021, the U.S. Department of Defense's Office of the Inspector General (DoD/OIG) announced an evaluation into the Department's actions concerning Unidentified Aerial Phenomena (UAP), otherwise known as UFOs. This announcement sparked significant interest among researchers, enthusiasts, and skeptics alike, all eager to understand the U.S. government's handling of these mysterious phenomena. As of 2023, the investigation remains ongoing, according to a recent statement received by The Black Vault.
The DoD/OIG is an independent office within the Department of Defense tasked with preventing and detecting fraud, waste, and abuse within the Department. It also provides oversight and promotes accountability across the Department's wide range of activities.
In May 2021, the Office announced an evaluation into how the DoD has been handling matters related to UAPs. The announcement followed the release of several videos by the Department of Defense in 2020 that depicted encounters between U.S. military pilots and UAPs. These declassifications led to increased public interest and scrutiny of the U.S. government's efforts to understand and address these phenomena.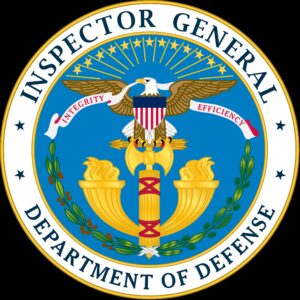 Megan Reed, a spokeswoman for the DoD/OIG, confirmed in a statement to The Black Vault that the investigation announced in 2021 is still ongoing.
"Yes, this project is still ongoing, and I'll be sure to keep you in the loop once we are closer to the report's release," she stated in an e-mail.
However, there is currently no confirmation that a public report will be released upon the conclusion of the evaluation. This has raised concerns about transparency and public awareness, particularly given the high level of public interest in UAPs.
Whether the report is publicly released, classified, or not released at all, The Black Vault is prepared to use the Freedom of Information Act (FOIA) to access the findings. By utilizing this tool, The Black Vault aims to ensure that the public is informed about the DoD's approach to UAPs.
Follow The Black Vault on Social Media: