Background
According to the report:
"Saudi Arabia is a key base of financial support for al-Qa'ida. Most of the money originates from wealthy individuals, fundraisers who solicit smaller donations, and diversions from non-governmental organizations (NGOs); a portion of the funding is derived from legitimate religious contributions."
The report was originally released in 2012, but heavily redacted.
I filed a Mandatory Declassification Review (MDR) on September 11, 2018, and did receive a new, SLIGHTLY less redacted version in November of the same year.
The follow appears to be the only new information from the MDR, which appeared in the SCOPE NOTE for the document. Previously, it was entirely redacted (the full document is downloaded below):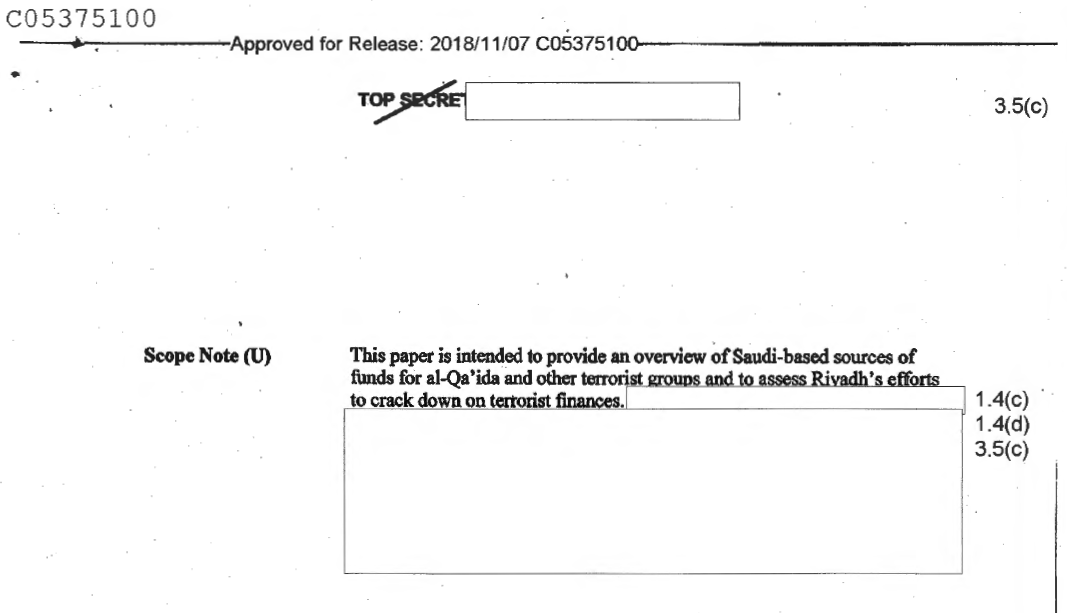 Document Archive

 CIA Report: Saudi-Based Financial Support for Terrorist Organizations, 14 November 2002 [17 Pages, 1.8MB]
https://documents2.theblackvault.com/documents/cia/SaudiBasedFinancialSupportTerrorist-November2018.pdf
Follow The Black Vault on Social Media: