The Black Vault received word of this incident by someone who wishes to remain anonymous, but had access to the FAA database that listed the report. It was sent to The Black Vault in mid November of 2022.
The date of the report is: 2148 EST 11/10/2022 | 0248 UTC 11/11/2022 though the actual time of sighting may differ.
The text related to the incident, as sent via email to The Black Vault, stated the following:
TIME/DATE: 02:39z 11/11/2022
TYPE OF INCIDENT: UNIDENTIFIED AERIAL PHENOMENON: HOUSTON TRACON/ATCT (I90), HOUSTON, TX, (TRACON)
INCIDENT DETAILS: Initial/Closeout
Call Sign: N1439X
Aircraft Type: PA28
Origin: 3T5 LA GRANGE
Destination: VFR VFR
New Destination: N/A
Remarks:
2148 EST / 0248 UTC 11/11/2022
PIC of N1439X/PA28 reported an unidentified aerial phenomenon while westbound at 3,000 feet, 10 NM SE of La Grange, TX (3T5). The unknown phenomenon was bright rotating lights about the size of a C172 traveling at a high rate of speed SW bound at approximately 4,000 feet.
ACTIONS/FOLLOW-UP/RECOVERY:
N/A
DIAGRAM MAP: N/A
SOURCE OF INFORMATION:
DEN
On November 15, 2022, The Black Vault filed a Freedom of Information Act (FOIA) request for information related to the incident. The result was a visual of the radar data, laid over the ATC recordings. That clip is below.
It begins with the edited version created by The Black Vault to clip out long pauses, and non-UAP related banter. Edits are notated by a flash on the screen. It is then followed by the entire ATC recording, which plays in full, unedited and in real time.
NOTE: The Black Vault has NOT done a formal investigation on this incident. Rather, the page you are on now was setup to archive a confirmed sighting archived within the FAA's files. Should any independent investigation add anything to this story, the page will be updated if the information is verifiable.
The Aircraft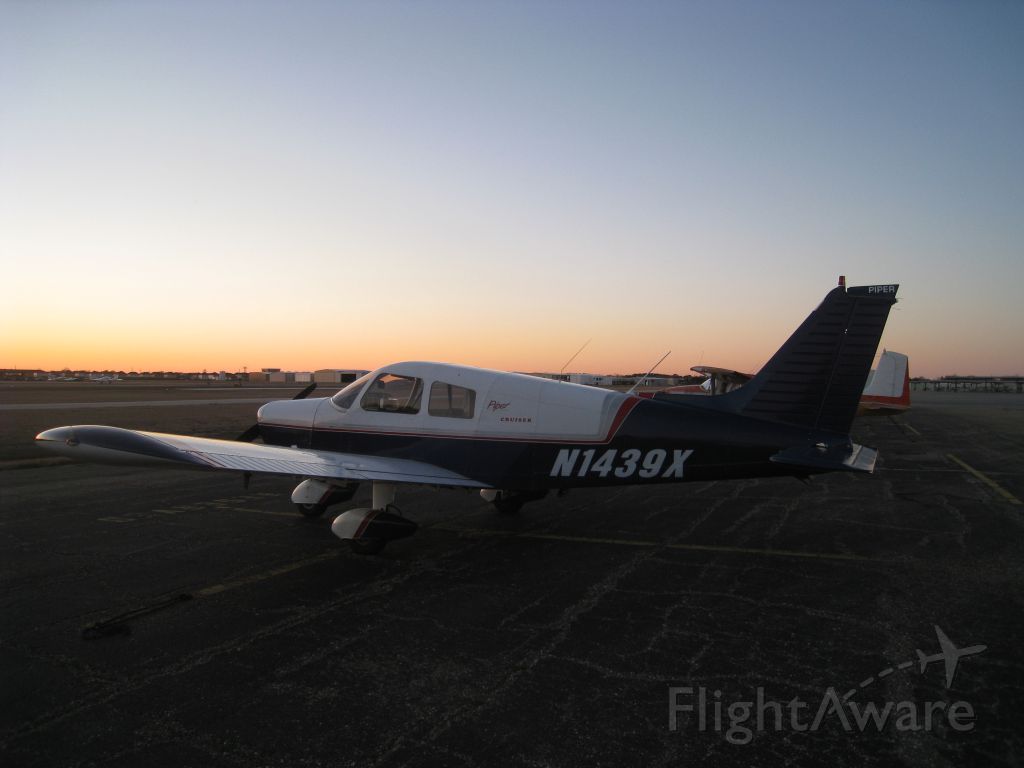 The Flight – Compliments of FlightAware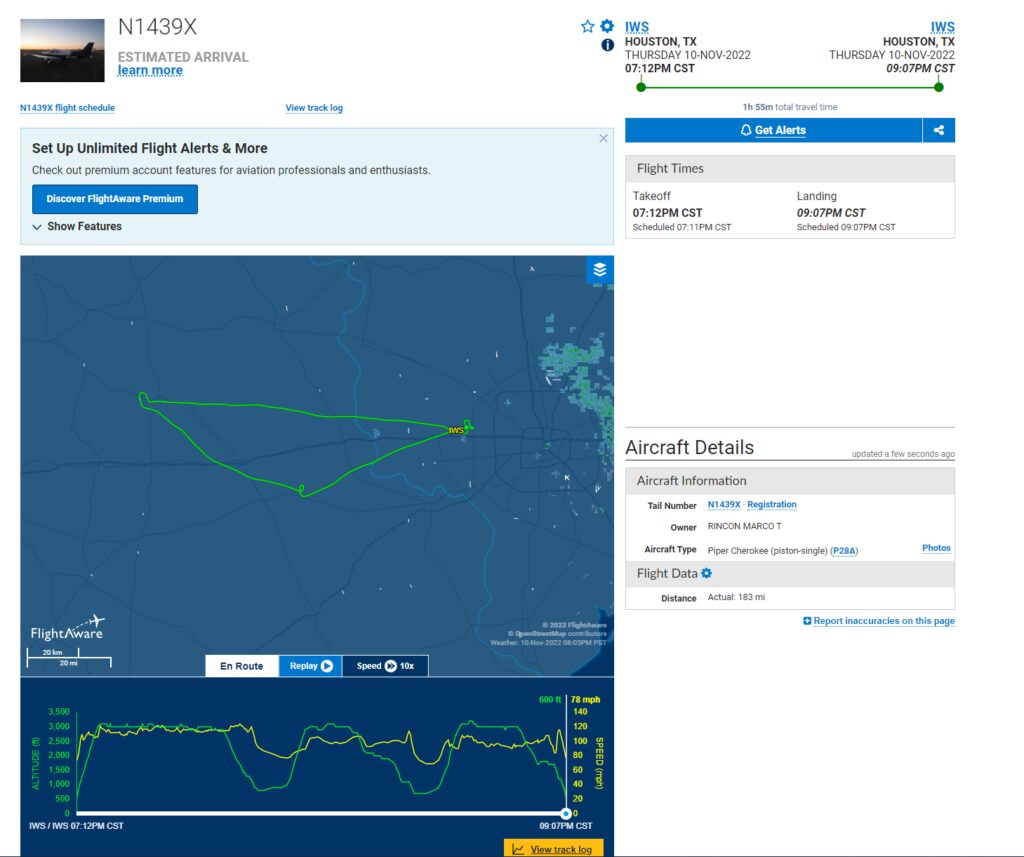 Possible Explanation?
Twitter user "Flarkey" has submitted a possible explanation for the event:
By comparing the @blackvaultcom radar video and @flightradar24 data I think the actual sighting was at Nov 11 2022 at 02:07hrs UTC. This coincides exactly with a fireball meteor sighting seen by at least 4 other people across Texas…@amsmeteorshttps://t.co/cjKN2TFPJJ pic.twitter.com/3okQU2zabN

— 𝔽𝕝𝕒𝕣𝕜𝕖𝕪 (@flarkey) January 4, 2023
Agree? Disagree? Feel free to comment on the thread above via Twitter.
FOIA Release Letter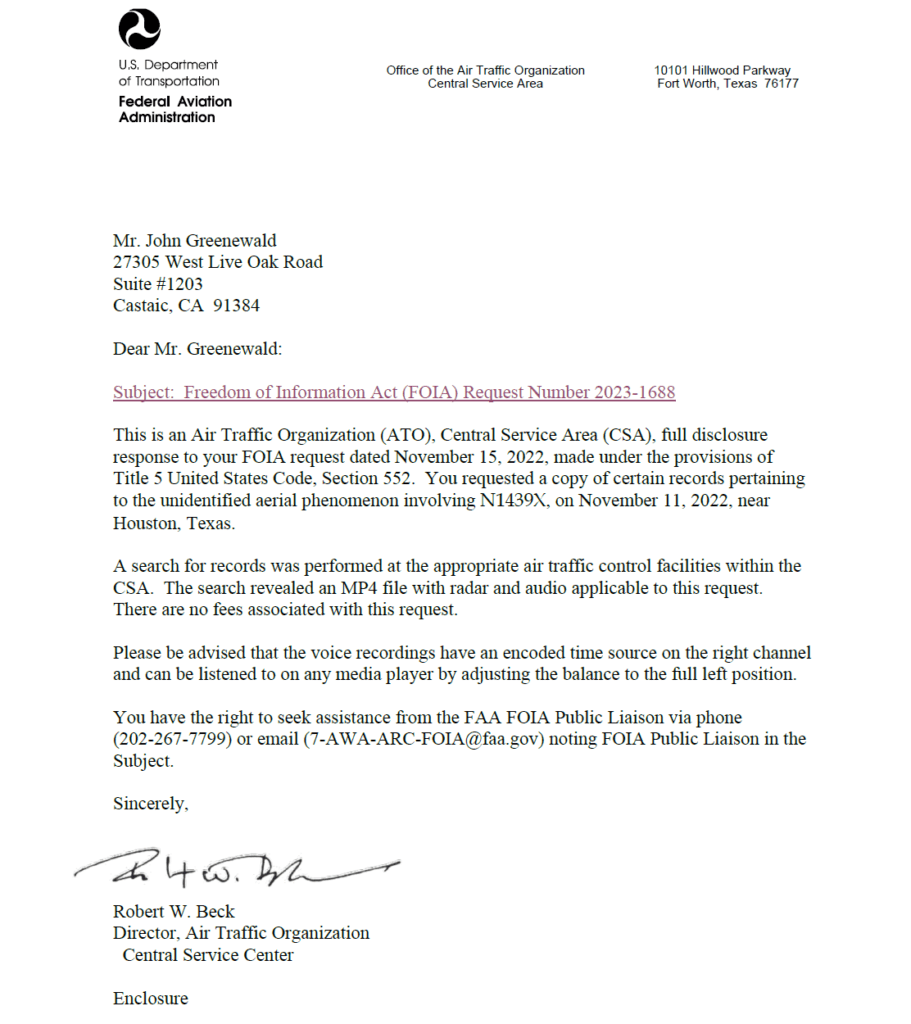 Follow The Black Vault on Social Media: