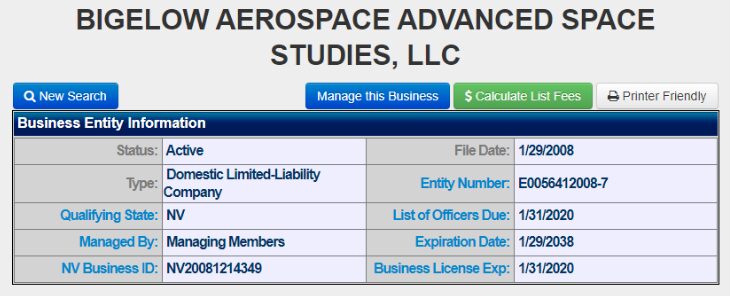 January 29, 2008
Source: Nevada Secretary of State, Business ID NV20081214349, Entity Number E0056412008-7, filed on January 29, 2008.  Source Data via https://www.nvsos.gov/sosentitysearch/.
Note: This contradicts news reports by Mr. George Knapp, KLAS-TV, in the I-Team: Documents prove secret UFO study based in Nevada article.  The relevant quote is: "For the DIA contract, he created BAASS, a seperate (sic) entity housed within his aerospace plant. He hired a team of 46 scientists and investigators, along with dozens of other support personnel."
It was also reported in Newsweek by Andrew Whalen, wherein the relevant quote states: "BAASS, created specifically for the Pentagon contract, conducted research both from Bigelow Aerospace headquarters in North Las Vegas and an infamous Utah ranch, formerly owned by Robert Bigelow (ownership has since transferred to Adamantium Real Estate, who manages the property on behalf of an anonymous owner)." 
Since the bid for AAWSAP was not posted until August of 2008 by the DIA, there is no way for Mr. Bigelow to know. So, either this is an erroneous fact as published by multiple media outlets, or Mr. Bigelow had foreknowledge of the coming program that would be open for bidding 8 months later, and wanted to get the paperwork set for a Nevada LLC to take it. 
Follow The Black Vault on Social Media: