Background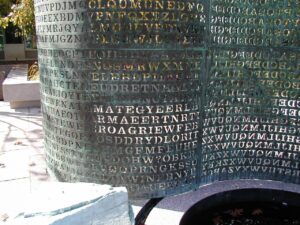 Kryptos is an encrypted sculpture by American artist Jim Sanborn located on the grounds of the Central Intelligence Agency (CIA) in Langley, Virginia. Since its dedication on November 3, 1990, there has been much speculation about the meaning of the encrypted messages it bears. Of the four messages, three have been solved, with the fourth remaining one of the most famous unsolved codes in the world. The sculpture continues to provide a diversion for cryptanalysts, both amateur and professional, who are attempting to decrypt the final section.
The below represents multiple FOIA requests to get documents on the sculpture declassified.
Document Archive
The National Security Agency (NSA) Documents
In the early 1990s, the NSA proposed a challenged that was taken up by a small group of cryptanalysts who wanted to decode the message on the Kryptos statue.  The documents below were the results of their research, including clues to deciphering the still unencrypted 'fourth message.'

 The CIA Kryptos Sculpture [ 98 Pages, 2.36MB ] – This document was declassified and released to The Black Vault in September of 2014.  It took nearly 3 years to process.

 NSA Documents on Kryptos [ 60 Pages, 8.56MB ] – This was the first batch of documents released to The Black Vault by the NSA, in relation to my 2011 FOIA request.

 CIA Released Document, 9 July 2014 [ 2 Pages, 8.56MB ] – This single document was referred by the NSA to the CIA for review and release.

The Kryptos Sculpture Intellipedia Entry [ 10 Pages, 2.2MB | Released 07/2017 ]