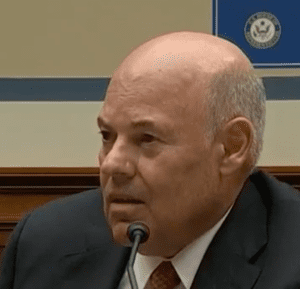 Louis DeJoy (born c. 1957) is an American businessman serving as the 75th U.S. Postmaster General. He was appointed in May 2020 by the Board of Governors of the United States Postal Service. Prior to the appointment, he was a Republican Party fundraiser, the founder and CEO of a logistics and freight company, and the CEO and then board member and large shareholder of the company that acquired it. DeJoy's company holds contracts with the USPS.
Upon assuming office in June 2020, he instituted a number of measures such as banning overtime, forbidding late or extra trips to deliver mail, removing and dismantling hundreds of high-speed mail sorting machines, and removing some mail collection boxes from streets. The changes caused significant delays of mail delivery, resulting in investigations by congressional committees and the USPS inspector general.
Controversially, the changes were implemented during the COVID-19 pandemic and the 2020 election, where mail-in-voting was extensively used, with President Trump and prominent Republicans deriding mail-in-voting. In August, DeJoy said that the changes would be suspended, and in October, the USPS agreed to reverse all the changes.
Document Archive

Postmaster General Louis DeJoy E-mails Containing The Phrase "Off the Record" – June 15, 2020 – circa February 2021 [43 Pages, 5.5MB]
Follow The Black Vault on Social Media: