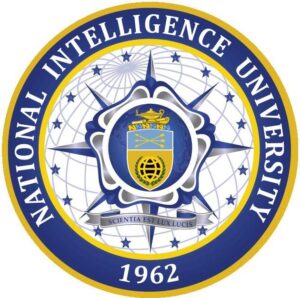 The National Intelligence University (NIU), (formerly known as the National Defense Intelligence College and the Joint Military Intelligence College) is a federal degree granting institution with a far-reaching mission to educate and prepare intelligence officers to meet current and future challenges to the United States' national security.
Our main campus is located in the Defense Intelligence Analysis Headquarter (DIA HQ) at Joint Base Anacostia Bolling (JBAB), Washington D.C. We also have graduate and academic centers with the National Security Agency and National Geospatial Intelligence Agency.
The NIU is a unique and technologically advanced university that focuses on the profession of intelligence and is the only institution of higher education in the nation that allows its students to study and complete research in the Top Secret/Sensitive Compartmentalized Information (TS/SCI) arena.
We are committed to offering and continuously maintaining an in-depth curriculum intended to enhance the desired analytical skills and competencies of intelligence analysis to include critical thinking, communications, engagement and leadership.
Our success is measured through our graduates, many of whom have gone on to serve as directors of the Central Intelligence Agency, National Security Agency, National Geospatial Intelligence Agency, service and Combatant Command J-2's, the Director of National Intelligence, and other important posts.
Our faculty and staff work closely with a professionally diverse student population to provide a challenging and rewarding educational experience that culminates in a Bachelor of Science in Intelligence Degree, a Master of Science in Strategic Intelligence Degree, and graduate certificates in intelligence studies.
If you are a federal employee in the Intelligence Community (IC), the military, law enforcement, National Guard, Reserve or other related security functions, you can apply for the resident (full-time) program through your parent agency or service, or independently for one of the NIU's cohort (part-time) programs.
The cohort program classes are conducted in the evening and select weekends at the DIA HQ, as well as at the graduate and academic centers at NSA and NGA during the day.
Declassified Documents

 National Intelligence University / Joint Military Intelligence College Master Theses List, 1973-2009 [170 Pages, 9.6MB] – This was a fairly strange request. In short, I filed a FOIA request for, "an index of the Joint Military Intelligence College master's theses from 1973 to the present" back in 2009.  In took nearly 5 years for the DIA to tell me that the document was classified, IN FULL. I immediately requested a Mandatory Declassification Review (MDR), wherein the government then has to conduct a review of the record, to see if there are truly no releasable portions.
I received a very strange e-mail, shortly thereafter:
Mr. Greenewald,
As I have just found out that your DIA FOIA case 0321-2009 has been reopened for reconsideration, I will be closing your MDR 0154-2014. The FOIA office will be sending correspondence regarding this matter shortly. Should you have questions, feel free to call.
So, they denied my MDR, and apparently reconsidered my request PRIOR to my appeal/MDR. Strange, and that is a rare thing to happen.
Be that as it may, another year later, I received the above declassified version of the list.
Follow The Black Vault on Social Media: