For more than four years, a Wikileaks document within their "Global Intelligence Files" has sparked much controversy. This record, listed as being from the Department of State Bureau of European and Eurasian Affairs, held the title, "REPORT THAT UR DESTROYED SECRET US BASE ON MOON." But, no digital copy could be downloaded, since an electronic version was not available. Now, two years after the first request was filed, The Black Vault was able to get the actual document released officially through the Freedom of Information Act (FOIA) in its entirety.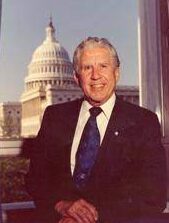 Since this record was first posted in the Wikileaks database and discovered by those who peruse the site, much speculation has circulated about what it truly meant. However, now that it is revealed, it shows that it was simply a response letter to a 1979 inquiry by the then, House of Representatives member Samuel Devine.
Per the response letter sent to Devine, Douglas J. Bennett, Jr., Assistant Secretary for Congressional Relations with the State Department, had responded to Devine stating there was no truth the rumor the Soviet Union "destroyed a secret US base on the moon in 1977." Clearly, Devine had received a letter from a constituent by the name of Ceyd Quentin Arbogast, who asked about what he referred to as the "Battle of the Harvest Moon."
The Black Vault's FOIA request was first sent to the State Department in 2019 (case F-2020-01231). After some time, it was then recommended it be filed to the National Archives and Records Administration (NARA) where the document was more likely to be held given the timeframe it was from. After a new case was filed (case #21-49400), it was found, reviewed, and released to The Black Vault in full on September 8, 2021.
###
Document Archive
(The below image is high resolution. If you are having trouble reading, simply click on the image, or CLICK HERE to download.)