Background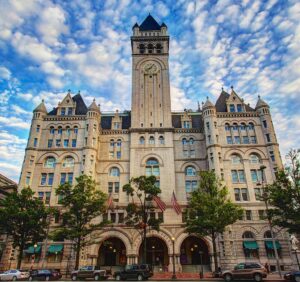 The Old Post Office Pavilion, historically known as the Old Post Office and Clock Tower, located at 1100 Pennsylvania Avenue NW in Washington, D.C. was completed in 1899, and is a contributing property to the Pennsylvania Avenue National Historic Site.
It was used as the city's main post office until 1914. It functioned primarily as an office building afterward, and was nearly torn down during the construction of the Federal Triangle complex in the 1920s.
It was nearly demolished again in the 1970s to make way for completion of the Federal Triangle. Major renovations occurred in 1976 and 1983. The 1983 renovation added a food court and retail space and the building was renamed the Old Post Office Pavilion. An addition was added to the structure in 1991.
In 2013, the U.S. General Services Administration leased the property for 60 years to a consortium headed by "DJT Holdings LLC", a holding company owned by Donald J. Trump through a revocable trust.
Trump developed the property into a luxury hotel, Trump International Hotel Washington, D.C. which opened in September 2016.
The Photographs

 GSA Photos of Trump Hotel, Washington DC/Old Post Office Building Ceremonial Occasions – 2014, 2015 and 2016 [27 Pages, 4.6MB]
Special Thanks
Wikipedia for background information.