In May of 2017, a FOIA request was filed by The Black Vault, seeking all emails sent to and from Andrew G. McCabe containing the keyword "Comey" (referring to James Comey) from May 1, 2017, until the date of the request's processing. That date has not been confirmed, as of yet, but is likely the beginning of 2018.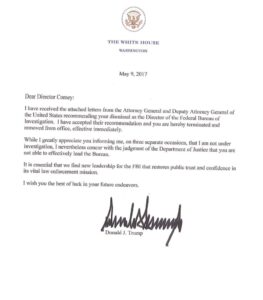 The timeframe of May 2017 stands as a particularly significant period in both FBI history and the broader narrative of American politics, marked by President Trump's dismissal of James Comey as FBI Director on May 9, 2017. The letter from President Trump to Comey stated, "While I greatly appreciate you informing me, on three separate occasions, that I am not under investigation, I nevertheless concur with the judgment of the Department of Justice that you are not able to effectively lead the Bureau." This termination occurred amidst the FBI's investigation into allegations of Russian interference in the 2016 presidential election, which included examining possible connections between Russia and Trump campaign associates, casting a long shadow over the administration and raising questions about the independence of federal investigative agencies.
The documents released to The Black Vault, dating from this turbulent time, provide a window into the internal communications within the FBI, specifically those involving then Deputy Director Andrew G. McCabe, who briefly served as acting director after Comey's departure. The content of these documents is crucial for understanding what was going on internally at the highest levels of the FBI during a time when its leadership, objectivity, and decision-making processes faced intense public and political scrutiny.
However, the path to actually getting these records was not straightforward. The FBI initially rejected the request, citing a lack of detail within the request in order to conduct a proper search. The first appeal in March of 2018 fighting that decision appeared to be successful. Yet, the FBI followed up with another rejection, this time claiming that the request, although did have the detail needed to specify what was being request, would be too burdensome to process given the broad nature of it.
Refusing to accept this second denial, The Black Vault filed a second appeal in May of 2018. This second appeal was also granted, leading to the interim release of 180 pages of records more than 5 years later. These documents are just the beginning, with additional records expected to be disclosed over time.
As The Black Vault continues to receive more pages, the document archive below this article will be systematically updated to ensure that interested individuals have access to the unfolding narrative of this significant chapter in FBI history.
Stay tuned to The Black Vault for further updates as more documents are revealed.
Document Archive
---
Follow The Black Vault on Social Media: