Introduction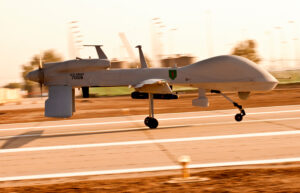 An unmanned combat air vehicle (UCAV), also known as a combat drone or drone, is an unmanned aerial vehicle (UAV) that is armed with weaponry and has no onboard human pilot. Currently operational drones are under real-time human control of unknown precision.
Drones change the nature of modern aerial combat. Controllers of drones are in no immediate danger, unlike jet pilots. As an advanced use of robots in war, drones also prompt fundamental questions about the relationship of warriors to war, and soldiers to their weapons.
In terms of military logistics, much of the equipment necessary for a human pilot (such as the cockpit, ejection seat, flight controls, and environmental controls for pressure & oxygen) can be omitted from an unmanned vehicle, resulting in a decrease in weight. This may allow greater payloads, range and maneuverability. However the distance between the pilot and the aircraft will naturally result in slower response time or latency.
Domestic Uses of Drones

 Audit of the Department of Justice's Use and Support of Unmanned Aircraft Systems, March 2015 [28 Pages, 1.5 MB] – Unmanned Aircraft Systems (UAS), commonly referred to as "drones," are remotely piloted aerial vehicles and their associated ground control stations that receive surveillance imagery. UAS may be equipped with cameras to obtain aerial surveillance and may operate up to several hours, depending on their design. Officials from multiple law enforcement agencies have stated that they believe UAS can be beneficial for reconnaissance, surveillance, and crime scene examinations, and that their use eliminates the risk to a pilot inherent in the manned aircraft used now. The objective of this audit was to assess Department of Justice (DOJ) component use and support of UAS. This report follows up on the findings of a September 2013 Office of the Inspector General (OIG) interim report that examined DOJ components' domestic use of DOJ-owned UAS and grant funding for non-DOJ UAS. In addition, this audit also examines how DOJ components have used or relied on other agencies' UAS to support DOJ law enforcement efforts.

 Integration of Drones into Domestic Airspace: Selected Legal Issues, January 30, 2013 [25 Pages, 0.5 MB] – Under the FAA Modernization and Reform Act of 2012, P.L. 112-95, Congress has tasked the Federal Aviation Administration (FAA) with integrating unmanned aircraft systems (UASs), sometimes referred to as unmanned aerial vehicles (UAVs) or drones, into the national airspace system by September 2015. Although the text of this act places safety as a predominant concern, it fails to establish how the FAA should resolve significant, and up to this point, largely unanswered legal questions.

 Interim Report on the Department of Justice's Use and Support of Unmanned Aircraft Systems, September 2013[43 Pages, 0.4 MB] – The Department of Justice Office of the Inspector General (OIG) is conducting an audit of the domestic use of unmanned aircraft systems (UAS) by the Department of Justice (DOJ), commonly referred to as unmanned aerial vehicles or "drones," as well as its support and provision of UAS to other law enforcement agencies and non-profit organizations. This interim report presents an overview of DOJ's UAS use and policies as of May 2013.
Follow The Black Vault on Social Media: