Background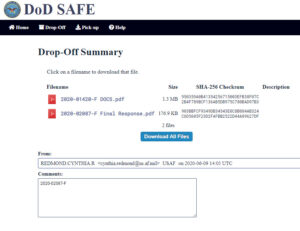 The UFO videos circulated as the "Gimbal," "Flir1" and "GoFast" have received widespread coverage in the media. However, controversy has surrounded the videos as being "unauthorized leaks" vs. "officially released."
As first broken by Vice News / Tim McMillan, AFOSI investigated the release of the videos. In early December of 2019, The Black Vault had also filed for similar records (FOIA Case 2020-02456-F) based on the statement that McMillan received from the Pentagon.
Although he got them in December of 2019, The Black Vault did not get them released until June 9, 2020, even though the release letter was written and dated April 14, 2020.
The reason for such a drastic delay for this request, which only yielded two pages, is unknown.
Document Archive

AFOSI Investigation Into Unauthorized Release of Three UFO Videos, 2018 [4 Pages, 1.5MB]