Assassination Reports and Records

 Final Report of the Select Committee on Assassinations US House of Representatives, January 2, 1979 [716 Pages, 43.27MB]

From Bright Ideas to Social Research: The Studies of the Kennedy Assassination, May 1965 [38 Pages, 1 MB]
National Security Agency Records

National Security Agency Records on the JFK Assassination Batch 1 [214 Pages, 17.3MB]

National Security Agency Records on the JFK Assassination Batch 2 [492 Pages, 47MB]
Central Intelligence Agency Records

 Arthur James Balletti Et Al – Unauthorized Publication or Use of Communications – Assassination of John F. Kennedy, 14 May 1962 [7 Pages, 9.1MB]
---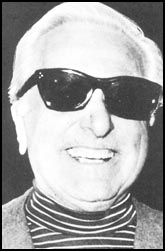 John "Handsome Johnny" Roselli was rumored by many to have played a role in the assassination of John F. Kennedy. Roselli was also involved with the Central Intelligence Agency (CIA) plot to kill Cuban leader Fidel Castro in the early 1960s.
Although I have filed multiple FOIA requests to multiple agencies, the below are the only records to have come back:

 Federal Bureau of Investigation (FBI) – [1,306 Pages, 52.58MB] – The FBI finally released 1,306 pages of Roselli's file. There are approximately 17,000 more pages. See the below letter.
Please Note: The FBI acknowledges that there is a nearly 18,000 page FBI file on Johnny Roselli, however, there are enormous fees to go along with obtaining the file. $530 to obtain the records on CD while a printed copy would cost $1,769.40.
If anyone would like to sponsor the rest of this file, I would put all 18,000 pages on The Black Vault and archive it here for research.

 National Security Agency (NSA) – The NSA claims that they can "Neither confirm nor deny records exist" on Roselli. Is this simply a standard response? Or are they hiding information?
---
Report of the Assassination Records Review Board
The President John F. Kennedy Assassination Records Collection Act of 1992 created the Assassination Records Review Board as an independent agency to re-examine for release the assassination-related records that federal agencies still regarded as too sensitive to open to the public. The Board finished its work on September 30, 1998, issued a final report, and transferred all of its records to the National Archives and Records Administration.
 Final Report of the Assassination Records Review Board September, 1998 [227 Pages]
Warren Commission Report
The President's Commission on the Assassination of President Kennedy, known unofficially as the Warren Commission, was established by President Lyndon B. Johnson on November 29, 1963 to investigate the assassination of United States President John F. Kennedy that had taken place on November 22, 1963. Its 889-page final report was presented to President Johnson on September 24, 1964 and made public three days later. It concluded that Lee Harvey Oswald acted alone in killing Kennedy and wounding Texas Governor John Connally and that Jack Ruby also acted alone when he killed Oswald two days later. The Commission's findings have proven controversial and have been both challenged and supported by later studies.
The Commission took its unofficial name—the Warren Commission—from its chairman, Chief Justice Earl Warren. According to published transcripts of Johnson's presidential phone conversations, some major officials were opposed to forming such a commission and several commission members took part only with extreme reluctance. One of their chief reservations was that a commission would ultimately create more controversy than consensus, and those fears proved valid. (Source: Wikipedia)

 Warren Commission Report (Full) [910 Pages, 88.9MB]
Comments
comments