A
A
A
Topic RSS
J.D. Salinger Of CATCHER IN THE RYE Fame Has Passed...
January 28, 2010
10:34 pm
J.D. Salinger, the legendary author, youth hero and fugitive from fame whose "The Catcher in the Rye" shocked and inspired a world he increasingly shunned, has died. He was 91.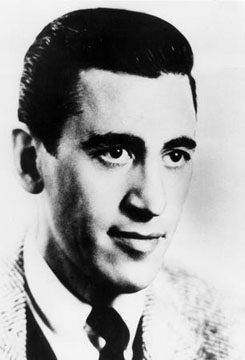 Salinger died of natural causes at his home on Wednesday, the author's son said in a statement from Salinger's literary representative. He had lived for decades in self-imposed isolation in the small, remote house in Cornish, N.H.
"The Catcher in the Rye," with its immortal teenage protagonist, the twisted, rebellious Holden Caulfield, came out in 1951, a time of anxious, Cold War conformity and the dawn of modern adolescence. The Book-of-the-Month Club, which made "Catcher" a featured selection, advised that for "anyone who has ever brought up a son" the novel will be "a source of wonder and delight — and concern."
WILL "CATCHER IN THE RYE" BE MADE INTO A FILM?
Enraged by all the "phonies" who make "me so depressed I go crazy," Holden soon became American literature's most famous anti-hero since Huckleberry Finn. The novel's sales are astonishing — more than 60 million copies worldwide — and its impact incalculable. Decades after publication, the book remains a defining expression of that most American of dreams — to never grow up.
Salinger was writing for adults, but teenagers from all over identified with the novel's themes of alienation, innocence and fantasy, not to mention the luck of having the last word. "Catcher" presents the world as an ever-so-unfair struggle between the goodness of young people and the corruption of elders, a message that only intensified with the oncoming generation gap.
Novels from Evan Hunter's "The Blackboard Jungle" to Curtis Sittenfeld's "Prep," movies from "Rebel Without a Cause" to "The Breakfast Club," and countless rock 'n' roll songs echoed Salinger's message of kids under siege. One of the great anti-heroes of the 1960s, Benjamin Braddock of "The Graduate," was but a blander version of Salinger's narrator.
The cult of "Catcher" turned tragic in 1980 when crazed Beatles fan Mark David Chapman shot and killed John Lennon, citing Salinger's novel as an inspiration and stating that "this extraordinary book holds many answers."
By the 21st century, Holden himself seemed relatively mild, but Salinger's book remained a standard in school curriculums and was discussed on countless Web sites and a fan page on Facebook.
January 29, 2010
4:15 pm
shadowfx
Forum Posts: 355
Member Since:
April 9, 2009
Offline
JD will be missed. He was a staple around these parts. There were always Salinger sitings.
I drive through cornish 2x's a day. In the summer when I'm out on my dual sport I have passed his house a couple times as those are fun roads to ride on and cut across the mountains.
The people that knew him and the people of Cornish and others in the area all respected his privacy. It was always nice to hear or see.
I feel for them and for his family as they have all lost their local legend.
January 29, 2010
7:53 pm
January 29, 2010
8:01 pm
shadowfx
Forum Posts: 355
Member Since:
April 9, 2009
Offline
Back in 99 his daughter did an interview that said he kept excellent records of his writtings.
In his files there are color codes on the files/folders for what can be done with what.
Certain ones are tagged with a color that means it's ok to publish after he passes. Another color is for family only and a third color is for stuff he'd like left alone and destroyed.
I'll bet most of the stuff is in the latter color.
I hope whatever comes of it is that his wishes are respected and followed.
Forum Timezone:
America/Los_Angeles
Most Users Ever Online: 288
Currently Online:
31 Guest(s)
Currently Browsing this Page:
1 Guest(s)
Top Posters:
greeney2: 10297
bionic: 9870
Lashmar: 5289
tigger: 4576
rath: 4297
DIss0n80r: 4161
sandra: 3858
frrostedman: 3815
Wing-Zero: 3278
Tairaa: 2842
Member Stats:
Guest Posters: 2
Members: 24780
Moderators: 0
Admins: 2
Forum Stats:
Groups: 8
Forums: 31
Topics: 9049
Posts: 124305
Newest Members:
Jeff payton, Matt Perkey, CAE, Mark, Cynical Optimist, Sam Smither, StevenStanleyBayes, YLGDTH, BillyShouse, Hicks Lane
Administrators: John Greenewald: 638, blackvault: 1776