A
A
A
Please consider registering
guest
Log In
Topic RSS
Related Topics
Lizard man of lee county and what I concluded.
November 17, 2020
11:08 am
ShadowWolf
Forum Posts: 2
Member Since:
November 12, 2020
Offline
The Lizard Man of Lee County
Cryptozoology
In the early morning hours of June 29th, 1988, a young man by the name of Christopher Davis was driving home after a hard night working when he stopped on the side of the road near an area called Scape Ore Swamp, in Lee County, South Carolina. He was to report to Sheriff Liston Truesdale a fortnight later, after being coaxed by his father to tell his story to police, that upon changing his tyre he heard a thump from behind him and turned to see something that terrified him to his core. "I looked back and saw something running across the field towards me. It was about 25 yards away and I saw red eyes glowing."
He went on to describe an encounter with a seven-foot tall green creature, with three fingers on each hand, that jumped onto his car as he fled from the area, and held on to the roof of the vehicle while Davis was driving at high speed. The entity supposedly looked at the terrified teenager through his windshield while an attempt was made to throw the creature off the vehicle by swerving from side to side. At some point the creature was dislodged, and Davis sped off. When asked by Truesdale to draw the entity, he presented a picture of something lizard-like, bi-pedal and large.
Sheriff Truesdale at this point, while stunned and amazed by the story, believed the seventeen year-old high school student as a bizarre series of events had started occurring prior to Davis reporting his encounter. Deputies had investigated a report of a car being damaged in the small community of Browntown, in which the automobile appeared to be the target of a bizarre instance of vandalism. The chrome molding had been torn away from the fenders, the sidewalls had been scratched and dented, the hood ornament was broken, the antenna was bent, and some wires from the motor had been ripped out. On further examination it appeared that parts of the molding had actually been chewed, leading to a theory that an animal had used its teeth to create the damage. To support this notion, clumps of reddish coloured hair and muddy footprints were found near and on the car.
Soon other vehicles suffered similar damage, and locals began reporting sightings of a tall lizard-like creature roaming the area of the swampland near Bishopville. Local police were baffled, but believed the perpetrator was more than likely to be a bear, and not a bi-pedal lizard creature. It has been claimed that during initial investigations into the damaged vehicles, police found and made casts of what looked like three-toed footprints that measured fourteen inches in length, but police were advised not to send them off for further examination.
Soon after the area was flooded with tourists, and hunters began appearing as the local radio station offered a reward of $1,000,000 for the capture of a live creature. However, sightings began dwindling, and the creature was pretty much not seen until October 2005, when a woman reported to police she had seen two Lizard Men outside her home, once again near the Scape Ore Swamp. Three years later in 2008, a couple reported to police that, as well as their vehicle being damaged in a similar attack to those reports from twenty years earlier, their pet cats had gone missing and their beds had been scratched and shredded. Blood traces were found, and once again the County was abuzz with talk of the return of the Lizard Man. However, samples taken from that scene were examined and tested, and resulted in a match with a domestic dog. There are those to this day that believe that the area was, and still is, the home of The Lizard Man of Scape Ore Swamp.
Many believe the initial story Christopher Davis made to police was a hoax, and that story perhaps instigated the local community to believe that the damage being made to their cars, actually made by a known creature, was being created by this fearful Lizard Man. As in similar cases of a small community being terrorised by a menacing enigmatic cryptid, such as Point Pleasant and the legend of Mothman, the area of Bishopville has, no doubt, had a rise in tourism since the original stories emerged. Many sceptics point out the possibility that the whole legend may have endured mainly due, in their view, to the local community needing it to continue boosting the local economy.
However, a strange theory has emerged over the years, one that, if it has any scientific merit, might prove that there is a Lizard Man, or Men. In 1982, a palaeontologist by the name of Dale A. Russell put forth a theory that a small species of highly intelligent dinosaur, called the Troodon, might have survived the cataclysmic extinction event 65 million years ago and possibly have evolved into a "Reptoid", a species of intelligent beings similar in body plan to humans. The description of said creature, according to Russell and the vast number of cryptozoologists who adhere to this theory, is very similar to eyewitness accounts given by many who claim to have seen the Lizard Man. Many proponents of this theory believe that the Troodon, whose fossil remains have been found mainly in North America and Alaska, was the only dinosaur species to have survived on land and essentially evolved alongside man.
I came across a video of a guy who goes by "bigfoot bob" on youtube. He was in the woods at night. He recorded a creature with red glowing eyes in the woods. He also found mounds. My guess is that those mounds are hidden doors that leads underground. How else could Those reptoids come up to the surface? Unless there is a cave somewhere with hidden doors in the woods. The caves are one way to get to the surface because they have hidden wall doors and the mounds could most likely be another way. It looks like they are more active at night in remote areas. When he went back to do a size comparison, it was at least 7 feet off the ground. The reptoid is thought to be 7 to 9 feet in height.
reptoid spotted in lee county.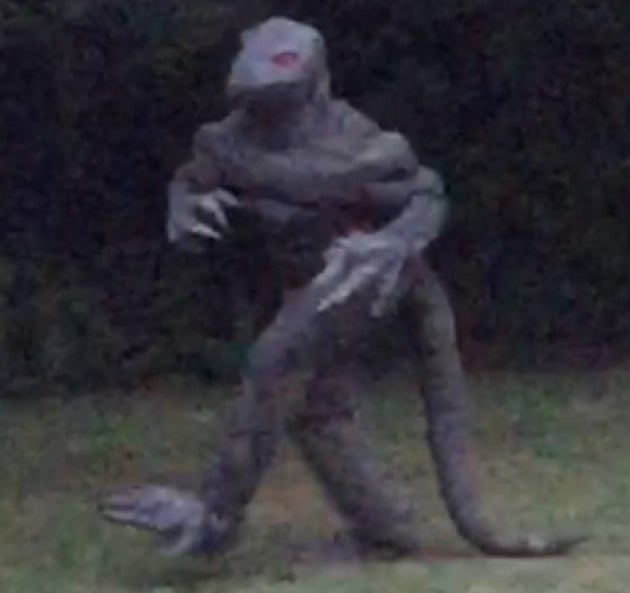 My conclusion is that they are very real! I can't stop looking at the picture of the reptoid. I been studying this picture for a while now. It's fearsome to meet face to face. It was said that they have the strength of 10 to 12 men! If you ever come across one, the best idea is to run!
Forum Timezone:
America/Los_Angeles
Most Users Ever Online:
376
Currently Browsing this Page:
1
Guest(s)
Top Posters:
greeney2: 10395
bionic: 9870
Lashmar: 5289
tigger: 4577
rath: 4297
DIss0n80r: 4162
sandra: 3859
frrostedman: 3815
Wing-Zero: 3279
Tairaa: 2842
Member Stats:
Guest Posters: 2
Members: 25831
Moderators: 0
Admins: 2
Forum Stats:
Groups: 8
Forums: 31
Topics: 9902
Posts: 126558
jaimee, Florah Williams, axcore, landtrack, totalpc, Samant, PitonJoe, ArleenA, charujohn, Marsha
Administrators:
John Greenewald: 697, blackvault: 1777
©
Simple:Press
—