A
A
A
Please consider registering
guest
Log In
Topic RSS
Terra Australis (Atlantis) - conclusive evidence?
July 7, 2009
5:56 pm
Hi all, you may remember my earlier posting and theory about Terra Australis Incognita being Plato's Atlantis. I have since come across Schoner's 1515 C-shaped Terra Australis and I realized that the map may actually be showing the conventional landmass of Terra Australis with a flooded plain. Plato's plain? This plain is proportioned precisely 3:2 and has an opening to the sea, exactly as Plato recorded of Atlantis. I have since expanded the theory significantly as demonstrated by some of the images included below (the new Proof of Theory section can be found here: http://www.riaanbooysen.com/te.....erraproof1).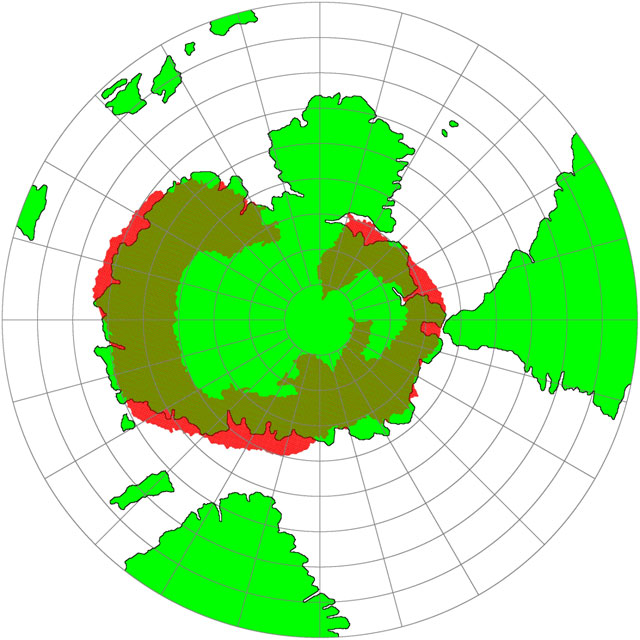 Figure 1.8 Schoner's 1520 and 1515 maps - Terra Australis with flooded plain? Atlantis?
The so-called Vatican map (centre) below shows an intermediate step of the flooding sequence.


Figure 1.7 Schöner 1520 map (left), Vatican 1530 map (centre) Schöner 1515 map (right).
The figures below show the similarity between Schoner's 1515 map and the Australian ocean floor, and also the similarity between the mountains of Schoner's map and the mountains of Australia, mega-lake and all.

Figure 1.9 Schoner's 1515 map compared to NASA bathymetry map

Figure 1.13 Mountains on the 515 Schöner map superimposed on a NASA Digital Elevation Map of Australia

Figure 1.16 Lake filled up in modern Australia
The submarine canyons carved into the Spencer Gulf escarpment (see enlarged view in text) in my opinion constitute certain proof of the existence of such an ancient mega-lake. I am aware of the turbidity current theory, which appears to have been invented to explain the formation of these canyons. Do you agree?
Would love to hear what you think.
July 9, 2009
11:48 pm
CodeBlack
Forum Posts: 912
Member Since:
April 9, 2009
Offline
The problem with ancient maps is that they were usually made by sailors who couldn't navigate that well since they didn't have accurate clocks. A lot of old maps show all kinds of stuff that is wrong. But that does not mean that this theory is wrong. I am not familiar with the "turbidity" theory. What does it explain? I was under the belief that we could see what was under the ice using satellites today. With so many disconnected cultures having a story of an ancient civilization more advanced it is hard to believe it was all based on nothing. This concept seems to frighten some.
July 10, 2009
12:26 am
Aquatank
Forum Posts: 1061
Member Since:
April 9, 2009
Offline
Common Riaan, don't be telling everyone the secret of the island.
😛
"Aquatank" wrote: The problem isn't the maps the problem is taking a Platonic fiction as literal truth.
& what do you call ... ( Platonic fiction )
Plato who plagiarized his story from the ancient cultures like the Australian aboriginals,
& their history about the creation of the world ..... Gondwanaland
July 20, 2009
2:39 am
Aquatank
Forum Posts: 1061
Member Since:
April 9, 2009
Offline
There is a methodology used by Socratic & Plato scholars to determine if what he is writing is what he says or what Socrates said or if it is fiction created by him. That method is the number of times removed from first person a story is. In the case of Atlantis its several times removed, if I remember right 4 or five times removed. To put it in terms you'd understand: I got this friend who heard it from a cousin who heard it from a sailor who who heard it from his aunt that such and such happened. Thats the kind of writing style that Plato laid out as the back ground to how he heard about Atlantis that places it as fiction he also added that the event 10000 years before he lived, as well as many details he could not know as well as placing temples to Greek dieties in Atlantis. It is pure fiction meant to portray a morality tale that relied on a few known historical events that the Greeks knew as inspiration. Fiction Writers use that kind of writing all the time.
July 20, 2009
2:56 am
CodeBlack
Forum Posts: 912
Member Since:
April 9, 2009
Offline
But isn't it possible that Atlantis did exist and was wiped out by an asteroid like the one that hit near the Yucatan peninsula and wiped out the dinosaurs? Could it be that the Egyptians traveled to South America where they knew about Atlantis from their own history (the only people on earth to survive the catastrophe), then when the Egyptians returned home told the story to traders traveling thru Egypt who then told the story to other towns they passed thru, who then transferred it to the Greeks?
Look how many civilizations have a great flood story and an Atlantis like story. Sure the story got mangled just like any story that passes from person to person but I'll bet there is some historical basis.
Go look at the area Southeast of the Yucatan peninsula in Google Earth. You can see the angle that asteroid came in at and when it hit it actually stretched the earth. That whole place might have been above water at one time. It is the right shape as told in the story of Atlantis.
July 20, 2009
4:33 pm
Aquatank
Forum Posts: 1061
Member Since:
April 9, 2009
Offline
Codeblack
with all due respect, no. Atlantis as Plato described it is very specific see for yourself http://classics.mit.edu/Plato/.....itias.html .
A fictional city cannot simply be erased by a real life event because a fictional city doesn't really exist except as Form ( or Platonic Form which is another issue all together.)
What is out there in the buried and decomposed sands of time are numerous remenants of peoples that occasionally built large architecture the world has forgot. Some people want to believe it is an Atlantean civilization that was global and dissappeared after the city of Atlantis dissappeared, but they are believing in a fiction, since the only true source of the story is Plato with Solon being a friend he inserted into his fiction. To attribute these ancient pre-Plato peoples achievements to a fiction debases them and their achievements. As I've pointed out in another thread there were various neolthic cultures that were wide spread in Europe that were linked to a 10000+ year old goddess based religion that had many great cities but they, fell like most European civilizations, to the invasions of immigration from the East.
Was there a pre-aboriginal culture in Australia, the answer is probably yes. Are there many traces, no. Like most things time has erased much of the traces. But none of these things is evidence of the existence of Plato's fictional continent, they are evidence of there own unique cultures which deserve their own place in history. We can say such and such has the qualities of the fictional continent but never can we say it actually is.
July 20, 2009
6:21 pm
Hi All, thanks for the feedback so far. On one of the other forums it was pointed out to me that ice core samples taken from the Antarctic ice cap could be dated back to about 700 000 year ago, and in this respect my argument that the ice cap was formed after the 'destruction of Atlantis' was incorrect. Not that this is a problem for my theory - Antarctica forms part of the Schoner 1515 map and the latter does not contain any topographical information.
The Vostok ice core data show no signs of the volcanic activity one would expect if the southern ocean floor had been plunged beneath the waters by 4000m, which had me in a bit of spin. It does however show a massive dust peak which began around 28kyrs ago and ended about 18kyrs (a good match with my theory in terms of the volcanic activity caused by a major impact of a comet or something), nowhere near Plato's 11.5kyrs before present. Digging a bit further into the flood legends, I came across a Tamil legend about a sunken land mass south of India, called Kumari Kandam http://en.wikipedia.org/wiki/K.....ari_Kandam. This legend claims that one half of the land mass was submerged during a flood, and the other part thousands of years later by a second flood. It has been speculated that this sunken land mass (apparently the only other ancient reference to a sunken island apart from Plato's) would have been Lemuria, which was submerged 18 000 years ago! Ice core data from the Greenland ice cap reveal that something drastic had happened between about 15kyrs and 11.5kyrs ago - in my opinion probable confirmation of Plato's date of the sinking of Atlantis. The second impact would have been far less severe than the first. I will be posting an update with this info hopefully fairly shortly.
Regarding the ancient maps - if these had all been figments of the imagination, there should not be any correlation between these maps and actual physical land marks. Is the correlation I have shown above pure coincidental? A bit further on in this chapter (Figures 31-37) I (attempt to!) show that Mercator's 1569 world map depicts lakes in the middle of the Saharah, which based on modern topographical data may actually have existed. If so, the lakes would existed long before about 8000 years ago - so how would this have been possible?
Anyway, we're all entitled to our own opinions! Riaan
July 20, 2009
6:53 pm
Aquatank
Forum Posts: 1061
Member Since:
April 9, 2009
Offline
People are explorers some people are better ones than others. You are looking at Maps made in the age of exploration after the 1000 C.E. not before. All written evidence of Atlantis begins and ends at Plato which he himself placed in a fictional world. Even the Great Library of Alexandria post dates Plato which means you would not find an account in its ruins. As far as consistencies are concerned inuition and skill do very well in cartography, even remote viewers get things right on maps from time to time.
July 23, 2009
2:20 am
CodeBlack
Forum Posts: 912
Member Since:
April 9, 2009
Offline
"Aquatank" wrote: Codeblack
with all due respect, no. Atlantis as Plato described it is very specific see for yourself http://classics.mit.edu/Plato/.....itias.html .
I don't have the time to read too much extra stuff but I did read the Plato story a long time ago and if I remember it right he said there were 3 "concentric circles" which made up Atlantis. Well, if someone got the "concentric" part mis-translated then go look again at Yucatan in Google Earth. You see 3 circles, one being the Gulf of Mexico. Maybe a coincidence. I wonder if the Atlantis Plato was talking about was nothing more than America. Considering the Nasca peoples and their cargo cult it is conceivable that aliens landed in S.A. and had a colony somewhere. That would explain the "advanced civilization" Plato mentioned and possibly explain the vanishing S.A. human civilizations as well.
Forum Timezone:
America/Los_Angeles
Most Users Ever Online:
376
Currently Online:
Louis Jimenez
Currently Browsing this Page:
1
Guest(s)
Top Posters:
greeney2: 10401
bionic: 9870
Lashmar: 5289
tigger: 4577
rath: 4297
DIss0n80r: 4162
sandra: 3859
frrostedman: 3815
Wing-Zero: 3279
Tairaa: 2842
Member Stats:
Guest Posters: 2
Members: 26442
Moderators: 0
Admins: 2
Forum Stats:
Groups: 8
Forums: 31
Topics: 10104
Posts: 127374
Louis Jimenez, Nick, Samuel jazz, Freud65, WH, Jack mccollister, Grant Will, passeri, Zigzag4747, hypnos96
Administrators:
John Greenewald: 700, blackvault: 1777
©
Simple:Press
—