A
A
A
July 4, 2009
1:18 am
"Majorion" wrote: Oh yeah, there's no doubt about it.

The Ancient Astronaut theory -- (AAT) is true. I usually like to start off with the question; How were the pyramids built? .. Even with all our modern knowledge and technology, we still don't know how they were built.

AAT say that earth has been visited by ETs and/or technologically superior humans in very ancient times and that these events have been recorded as encounters with "Gods", "Flying Chariots", "Wars of Worlds" in ancient mythologies, legends and religions.

AAT is not the same by every researcher. Zecharia Sitchin (originator of the theories surrounding the Sumerian Annunaki) for example believes we were not only visited by extraterrestrials but actually created by them. Others say we were only ocassionally visited by ETs throughout history.

The similarity of ancient accounts, mythologies, cults and religions from all around the world, all basically describing "Gods" that flew around, performed technical "miracles", created things, destroyed them, taught humans skills, etc. In AAT we propose that our ancestors were describing technological events they didnt have the right vocabulary for. So saying "flames came out of the flying serpent" could very well be the description of an aircraft...for example.

And besides all that, we also have evidence of a civilization on our very own Moon;
It seems you know your stuff. I totally agree. Giorgio Tsoukalos is one of my favorite researchers into this field http://www.legendarytimes.com/giorgio/
July 4, 2009
4:15 am
I posted that link because that is one of the websites that he is participated in. He is a new guy in the field. You can google his name and find some info on him. You can also youtube him too. 🙂
April 24, 2009
7:18 pm
BloodStone
Forum Posts: 1402
Member Since:
April 9, 2009
Offline
You have any good sites that I can find more of these great pics?
I too believe there has been or still is civilizations on other planets, and moons. I have seen other NASA pics that are so blurred it's obvious that they are hiding large structures.
I also heard in the past that Russia had been mining on the moon, but that would require large outposts able to sustain life for a good amount of time. I just don't understand why it needs to be kept so secret?
How many people would love to know we are not alone in this huge universe? It just isn't possible that we are the only rock floating around with intelligent life forms.
BloodStone...
If it were raining hookers, I'd get hit by a fag.
April 25, 2009
9:36 am
chiselray
Forum Posts: 1573
Member Since:
April 9, 2009
Offline
February 13, 2011
3:27 pm
WarAngel
Classified
Forum Posts: 631
Member Since:
February 12, 2011
Offline
Two of the topics that stick out in my mind are the Noah's Ark story actually being a DNA Bank. The other is that aliens spread
the Bubonic Plague while wearing black cloaks and waving Scythe like objects. Giving us our idea of the Grim Reaper.
Now as for the plague itself I believe it originated on Earth as history said it did. The aliens just helped spread it,
making it worse than it would have been on it's own.
"vidrar" wrote: This is on History channel now.
Anyone else watch this and want to weigh in on their thoughts.
This is a great show. :thumbup: One of the best in paranormal.
"Majorion" wrote: Oh yeah, there's no doubt about it.

The Ancient Astronaut theory -- (AAT) is true. I usually like to start off with the question; How were the pyramids built? .. Even with all our modern knowledge and technology, we still don't know how they were built.
I go with Humans with alien help myself.
"vidrar" wrote: AAT say that earth has been visited by ETs and/or technologically superior humans in very ancient times and that these events have been recorded as encounters with "Gods", "Flying Chariots", "Wars of Worlds" in ancient mythologies, legends and religions.
I like the parts about The Rama Empire and Brahma Weapons (ancient nuclear weapons.)
"Majorion" wrote: And besides all that, we also have evidence of a civilization on our very own Moon;
This one's my favorite (The Castle)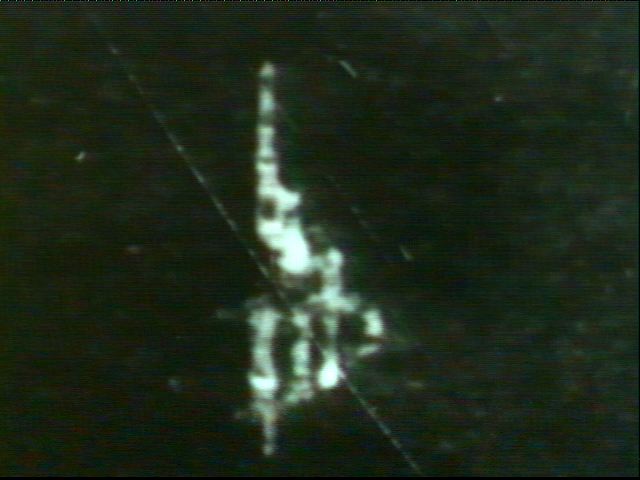 "vidrar" wrote:
Or could it be that the Mayan calendar isn't an end of the world date, but rather a return date?
You and I share the same theory.
March 8, 2011
3:43 am
hiflier
Forum Posts: 57
Member Since:
February 20, 2011
Offline
Hello All,
This has always been a facinating subject for me. I read a book published in 1955 by an astronomer named M.K. Jessup. Some of you may have seen some of his books. There is an internet download called "Varo Edition" which has a section on the subject of the large close-fitting stones in some of the ancient walls of the Andes Mts. One cannot slip a pen knife between them and some are estimated to weigh around 200 tons. The proposed method for that kind of precision was grinding the stones together. The mirrors of today's telescopes like the Hubble grinds the mirror to precision using ground glass (dust?). Same idea as the stones using like material for grinding. But sliding 200 ton stones so that mating surfaces match nearly perfectly is a mystery to me.
On another subject WRT contacting ET there is a plan afoot to say "Hello" to ET on 7/20 of this year @05:30 GMT. Worldwide. I myself am on the UFO Magazine Forum where the idea had it's genesis and was one of three members who launched the plan around 2/20. Should be interesting to see what occurs. ❓
June 15, 2011
4:39 pm
adamwarlock2099
Forum Posts: 674
Member Since:
May 30, 2009
Offline
Just started watching this not too long ago on Netflix. I think I am about half way through the series. I haven't been able to watch it much here lately. Defiantly some interesting information and discussion going on within it. When I have a chance to watch more and/or refresh my memory I can make a more detailed post on my thoughts.
"That's the problem with drinking ... If something bad happens you drink in attempt to forget; if something good happens you drink in order to celebrate; and if nothing happens you drink to make something happen." -- Charles Bukowski
Forum Timezone:
America/Los_Angeles
Most Users Ever Online:
341
Currently Browsing this Page:
1
Guest(s)
Top Posters:
greeney2: 10399
bionic: 9871
Lashmar: 5290
tigger: 4577
rath: 4298
DIss0n80r: 4162
sandra: 3859
frrostedman: 3816
Wing-Zero: 3279
Tairaa: 2843
Member Stats:
Guest Posters: 2
Members: 25743
Moderators: 0
Admins: 2
Forum Stats:
Groups: 8
Forums: 31
Topics: 9855
Posts: 126477
Vakanai, jasonrock, Cpmow831, Met Exteriors, Jody Lemming, R, Steve Johnson, Elisabeth, Diamond7474, Nathan Gamer
Administrators:
John Greenewald: 693, blackvault: 1777
©
Simple:Press
—