Most of the time crowds of human beings can be manipulated into action, this happens all the time at campus rallies and such. Sometimes they even bus students in as protesters even if only to play the roll of actor. Usually this act has little consequence other than a few photo ops, or chants of something stupid.
But at the latest G20 meeting it seems as if the Police actively engaged in riling or manipulating the crown of protesters into acts of violence as a means of being able to justify their flex of muscle. Not like two ships passing in the night but more akin to two pit bulls being paraded up and down opposite sides of the street by their respective masters in hopes of the eventual confrontation. This all played out in broad daylight under the noses of those who may one day think twice before taking a stand. All about perception and controlling the situation at hand from within.
This is classic military tactics 101, divide and conquer which is a most effective tool indeed.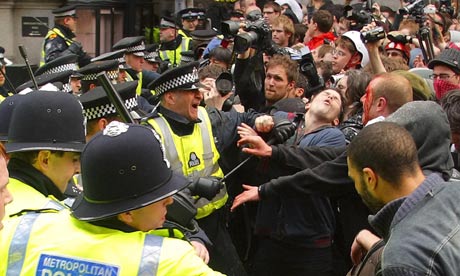 Surely the above photo speaks for itself and yet many dismiss it as the typical end result of protester vs police vs protester, only these people were provoked into action by the police. Can you imagine: " I DARE YOU " " NO I DOUBLE DAWG DARE YOU "
Don't take my word for it:
An MP who was involved in last month's G20 protests in London is to call for an investigation into whether the police used agents provocateurs to incite the crowds.

Liberal Democrat Tom Brake says he saw what he believed to be two plain-clothes police officers go through a police cordon after presenting their ID cards.

Brake, who along with hundreds of others was corralled behind police lines near Bank tube station in the City of London on the day of the protests, says he was informed by people in the crowd that the men had been seen to throw bottles at the police and had encouraged others to do the same shortly before they passed through the cordon.

Brake, a member of the influential home affairs select committee, will raise the allegations when he gives evidence before parliament's joint committee on human rights on Tuesday.
Take it from someone who was there!
The use of plain-clothes officers in crowd situations is considered a vital tactic for gathering evidence. It has been used effectively to combat football hooliganism in the UK and was employed during the May Day protests in 2001.

Brake said he intends to raise the allegations with the Met's commissioner, Sir Paul Stephenson, when he next appears before the home affairs select committee. "There is a logic having plain-clothes officers in the crowd, but no logic if the officers are actively encouraging violence, which would be a source of great concern
I couldn't agree more with the above quote: A necessary tactic that has stepped over a very fine line!
http://www.guardian.co.uk/politics/2009 ... ovacateurs
Cole