BY TRENTON DANIEL AND JOSE PAGLIERY
tdaniel@MiamiHerald.com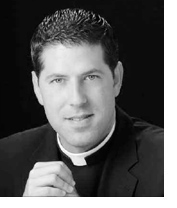 In Friday's edition of Florida Catholic of Miami, the Archdiocese's biweekly newspaper, Archbishop John C. Favalora penned a column on priests and celibacy on the occasion of the annual ordination of priests, which happens Saturday at St. Mary Cathedral.
While he steered clear of this week's controversy involving the Rev. Alberto Cutié, the popular priest embroiled in a romantic scandal, the remarks only renew a centuries-old debate among Catholics and non-Catholics alike: Is it realistic to ask a priest to refrain from sex and marriage?
''Married life begets celibate life,'' the archbishop writes in one part of the column, which is available online.
``Many parents today, unfortunately even faithful Catholics, are hesitant to encourage their children to follow a priestly or religious vocation. They fear it will be too difficult, too lonely.
'Eventually they realize that having a priest or religious in the family is a gift from the Lord -- a gift that rewards the parents' own faith and perseverance at their own vocation of marriage.''
Cutié, a national figure with movie star looks, was removed from his Miami Beach church on Tuesday after photographs appeared in a Mexican magazine showing him on a beach with a woman. TVnotas hit the newsstands in Miami on Wednesday.
The magazine's cover shows Cutié, 40, laying on his back in blue shorts with an unidentified, brown-haired woman in a dark bathing suit wrapping her legs around him.
Other pictures, which TVnotas says were taken over a three-day period in March, include one with Cutié's hand inside the woman's bathing suit touching her posterior. Still another shows the couple kissing at an unidentified terrace bar.
The photos came to light about six weeks after paparazzi tried to peddle them locally, but were turned away.
Archdiocese of Miami officials, who removed Cutié from his duties at the church, said Wednesday that the priest's future is in his hands.
''Father Alberto is taking time to pray; how he proceeds is totally his choice,'' said archdiocese spokeswoman Mary Ross Agosta. ``He is a member of the clergy and, therefore, the archdiocese will assist him in his prayerful journey.''
''This is a conversation between a priest and his archbishop, like a conversation between a father and a son,'' she said. ``Now Father Albert has some prayerful time ahead of him.''
In an interview with El Nuevo Herald on Wednesday, the internationally known priest and media personality said he was taking an indefinite leave from the church for ``personal reflection.''
Cutié, who also issued a public apology on Tuesday, declined to identify his companion in the published pictures or talk about their relationship in his brief telephone interview with El Nuevo Herald, The Miami Herald's sister newspaper.
''It would be inappropriate. To protect that person it's best not to speak about that. It has been enough already. It's has been too much for me and my family,'' Cutié told the newspaper, for which he writes a weekly advice column.
On Thursday morning, more than 60 Cutié supporters rallied to the priest's defense Thursday in front of his Miami Beach church.
The peaceful protest was interrupted briefly when a commotion erupted between two men.
Jose Soler, 69, walking home from a nearby bank, stopped to criticize Cutié, saying the priest used his popularity to manipulate followers and ``hurt God.''
FULL ARTICLE
SR: The fact that this dude was caught fooling around with some Hot Latina Honey instead of a young boy should be grounds for reinstatement !