Phi Spector was convicted, today, of 2nd Degree murder for the 2003 death of Lana Clarkson. Clarkson was found in Spector's Alahambre, CA home with a gunshot wound in the roof of her mouth. She was 40 years old.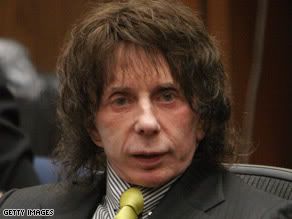 Spector could face 18 years to life in prison for this conviction. His 2007 trial ended in a mistrial when the jury was deadlocked at 10-2 for conviction. To be convicted of murder, the jury must be unanimous.
The prosecution produced five female witnesses to testify that Spector had threatened them with a pistol and his limo driver who testified that he saw Spector exit the house with a pistol and mention he thought he'd killed someone.
The defense argued that Clarkson's death was merely suicide. The prosecution, however, pointed out the fact that Clarkson had purchased a new pair of shoes on the day of her death. They said that a suicidal woman would not do such things. Spector will be sentenced on May 29.
LINK
SR: Take it easy Phil...You'll be someones "Little Baby" in the Lock Up very soon !!!