The real stuff is beginning to hit the fan. Personally I think it's because someone has finally found out just who this guy is in bed with and why they are spending Millions of their own personal wealth in an effort to get him elected.
ABC for one has had a story on Mitt for over a year----Killer story--so far they've refused to run it. So this week some FBI-CIA-Intelligence agency personnel decide to leak it to those who are in a position to publish it.
The bottom line is that Mitt ( it has been documented ) by said personnel, is a shady business man and into things that would refuse him any chance at being president.
Anyway---today the Guardian is running a piece on Mitt's biggest donor----it's said that he's spent about 1 billion in the effort to get Mitt in the White House. This should raise a few red flags.
Yes this has been posted on a few intel sites, and talked about in detail for over six months now-----So why NOW? Why the Guardian and no US Media?
Sheldon Adelson's billions shape US politics as many question his influence

Casino mogul is sparing no expense to get Romney elected, a win that would benefit his businesses and his bank account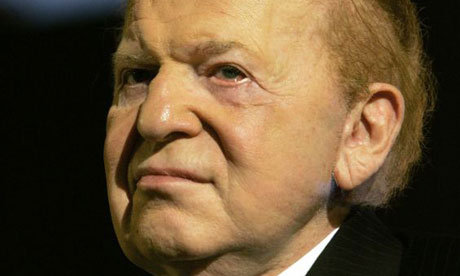 Every day three scenes, on the surface unconnected, unfold in different corners of the world. By breakfast time in Macau, China's gambling mecca, thousands of people are inside vast casino resorts spending money on baccarat, poker, slot machines and restaurants. Managers monitor the profit by the hour.

By lunchtime in Israel commuters and shoppers are perusing Israel Hayom, a brash giveaway tabloid and the country's most-read newspaper. It supports the government of Binyamin Netanyahu. And it clobbers rival dailies to the point of extinction.

By dinnertime viewers in Florida, Ohio, Colorado, Nevada and other swing states in the US presidential election are watching, for the umpteenth time that day, television advertisements attacking Barack Obama and promoting Mitt Romney. Their volume and cost have set records.

This eclectic, global triptych is connected by a fourth, less visible scene. In the quiet hum of his air-conditioned Las Vegas headquarters a short, portly man with thinning red hair absorbs reports detailing it all, Macau, Israel, the election, because in every one he is a player. He crunches the profits, circulation and polling and ponders his next move. His name is Sheldon Adelson, and he is one of the world's richest men.

"I suppose you could say that I live on Vince Lombardi's belief. Winning isn't everything, it's the only thing," he told a recent interviewer, citing the legendary American football coach. "So, I do whatever it takes, as long as it's moral, ethical, principled, legal."
Now a key paragraph----It's almost as if these people within the Media are walking on egg shells when it comes to this guy....
No one doubts Adelson, 79, lives to win. But with the White House race entering the final stretch of what both sides call the most important election in decades there is growing controversy over his business interests and methods.
I'm not going to speak of these " INTERESTS AND METHODS " Why? He's under investigation ( it has been said by those in that line of work ) for things that if a decent person knew of, would make it impossible to accept money in an effort to become President. Yet Mitt------------well I leave the rest to those of you who care enough to read it.
http://www.guardian.co.uk/world/2012/no ... -influence
Never seen such a mess..........A guy who some say wasn't born a US Citizen vs a Guy who has ZERO morals.........How it came to this is beyond me.
Cole