Note that the description of the payload is, a satellite for "National" reconnaisance. Greeney, this is your stomping grounds... any thoughts? Some people suspect this is a much bigger deal than it's being portrayed as. I saw on TV that the satellite is purported to have the ability to see through cloud cover, etc. It's something really sophisticated, perhaps unprecedented. If this truly is for "national" recon, it's odd that we would dedicate such superior technology to watching what our citizens are doing rather than other folks who plot against us.
I guess in the grand scheme, it's not THAT big a deal, seeing as how every move people make in the UK is recorded on traditional closed-circtuit TV cameras (there are about 2 billion such cameras in operation today). If this satellite is watching what is going on in the US, it's just one giant camera as opposed to 2 billion little ones.
Let there be no doubt... Big Brother is in full swing.
--------------------------
Delta 4 rocket poised for blastoff this afternoon
Santa Maria Times
Staff report | Posted: Tuesday, April 3, 2012 11:41 am
A Delta 4 rocket is poised for blastoff this afternoon from south Vandenberg Air Force Base, where crews this morning retracted the mobile service tower from its place protecting the rocket.
The team is counting down to a liftoff at 4:12 p.m. today from Space Launch Complex-6 on South Base.
Mother Nature appears ready to cooperate with the liftoff attempt - launch weather officers are calling for just a 40 percent likelihood that conditions will force a postponement.
Liftoff has been delayed since Thursday so that crews could analyze a potential problem that they has since been resolved.
The United Launch Alliance rocket will carry a top-secret satellite for the National Reconnaissance Office.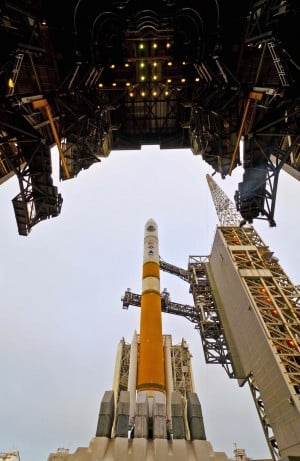 Read more:
http://santamariatimes.com/news/local/d ... z1rEUjgWU5