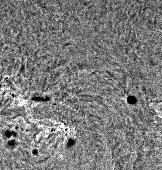 High resolution animation available below...
Taken by Richard Schmidt on December 1, 2013 @ Burleith Observatory, Washington, DC
Details:
While imaging sunspots we observed a fast-moving satellite with a long boom arm crossing the field of view. This sequence spans 36 milliseconds of real time. The object was moving East at 1 degree per second. Lunt LS100 solar telescope.
---
Originally posted by SpaceWeatherGallery.com
Special thanks also to BlackVault User Willease for posting it on The Black Vault