http://blogs.abcnews.com/politicalpunch/2009/04/candidate-obama.html
Political Punch
Power, pop, and probings from ABC News Senior White House Correspondent Jake Tapper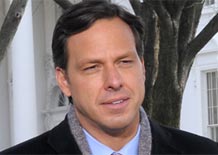 Jake Tapper is ABC News' Senior White House Correspondent based in the network's Washington bureau. He writes about politics and popular culture and covers a range of national stories.
Candidate Obama, President Obama, and the Armenian Genocide
April 06, 2009 6:46 PM
Armenian American activists today said that President Obama's refusal to pushing Turkey to recognize its genocide against Armenians -- or to even used the "g" word -- fell "far short of the clear promise he made as a candidate that he would, as President, fully and unequivocally recognize this crime against humanity."
Behind the scenes, the White House says, the president was urging Turkish and Armenian leaders to resolve this issue as part of the normalization of relations the two countries are negotiating.
This evening in Istanbul, President Obama met at a reception with the Foreign Ministers of Armenia, Turkey and Switzerland on the margins of the Alliance of Civilizations, which is meeting here. This photo of the meetings was provided by the White House:
An administration source tells ABC News that in his meeting with Armenian Foreign Minister Eduard Nalbandian, Swiss Foreign Minister and mediator Micheline Calmy-Rey, Turkish undersecretary of the foreign ministry Ertugul Apakan, and Turkish Foreign Minister Ali Babacan, President Obama took the opportunity to congratulate them on the progress on the normalization of relations between Turkey and Armenia, and also to press them to take this to the conclusion.
The tentative agreement between the two countries includes a historical commission which would make a conclusion about just what happened in the early part of the last century, when hundreds of thousands of Armenians were killed by Turks.
As a senator, and then as a presidential candidate, Barack Obama often talked about how bold he was to call the slaughter of an estimated 1.5 million Armenians at the hands of the Ottoman Empire just what it was: a genocide.
"America deserves a leader who speaks truthfully about the Armenian Genocide and responds forcefully to all genocides," he said. "I intend to be that President."
In a January 2008 letter to the Armenian Reporter, Mr. Obama said he shared "with Armenian Americans - so many of whom are descended from genocide survivors - a principled commitment to commemorating and ending genocide. That starts with acknowledging the tragic instances of genocide in world history."
In 2006, Mr. Obama noted, "I criticized the secretary of State for the firing of U.S. Ambassador to Armenia, John Evans, after he properly used the term 'genocide' to describe Turkey's slaughter of thousands of Armenians starting in 1915. I shared with secretary Rice my firmly held conviction that the Armenian Genocide is not an allegation, a personal opinion, or a point of view, but rather a widely documented fact supported by an overwhelming body of historical evidence."
Asserted Mr. Obama, back then: "The facts are undeniable. An official policy that calls on diplomats to distort the historical facts is an untenable policy."
Mr. Obama also stated unequivocally that "as President I will recognize the Armenian Genocide."
His position on the matter was so strong, the Armenian National Committee of America had its own Obama File on Armenian Genocide Recognition which included a Youtube clip of the President on the campaign trial saying, "there was a genocide that did take place against the Armenian people. It is one of these situations where we have seen a constant denial on the part of the Turkish government."
Last year, Aram Hamparian, executive director of the Armenian National Committee of America, said  that "Armenian American voters welcome Senator Obama's powerful call for real change in how our government addresses the core moral and foreign policy issues that hold such great meaning for our community. After decades of White House complicity in Turkey's efforts to block American recognition of the Armenian Genocide, most recently in the form of President Bush's personal efforts this past October to delay the Armenian Genocide Resolution, the time has clearly come for a President who will personally lead – not obstruct – the commemoration of this crime against all humanity."
But what a difference actually relying upon the US alliance with Turkey makes.
Standing with Turkish president Abdullah Gul today, Mr. Obama was asked about his position that the Turks need to acknowledge the up to 1.5 million Armenians the Ottoman Empire slaughtered around the time of World War I.
"My views are on the record and I have not changed views," Mr. Obama said. "What I have been very encouraged by is news that under President Gul's leadership, you are seeing a series of negotiations, a process, in place between Armenia and Turkey to resolve a whole host of longstanding issues, including this one."
Saying he wants to "be as encouraging as possible around those negotiations which are moving forward and could bear fruit very quickly very soon. And so as a consequence, what I want to do is not focus on my views right now but focus on the views of the Turkish and the Armenian people. If they can move forward and deal with a difficult and tragic history, then I think the entire world should encourage them."
(ABC News' Lara Setrakian says in Turkey it is a crime to publicly discuss the Armenian Genocide, a ban mounted in 2000 as an add-on to Article 301, which prohibits by law any insult to Turkey or the Turkish nation. The "g" word has landed a handful of scholars in jail, among them famed journalist Hrant Dink before his 2007 assassination by an extreme nationalist.)
Gul then said that during World War I the Ottoman Empire "was battling on four fronts. And unfortunately, some citizens of the empire then were provoked by some other countries and there were many internal clashes and many people lost their lives. And we share the sorrow of all those who lost their lives, but we have to remember that the Muslim population also suffered greatly at the same time."
Later today in front of the Turkish Parliament, President Obama alluded to the genocide but didn't mention it, and certainly didn't call it a "genocide."
An issue "that confronts all democracies as they move to the future is how we deal with the past," he said, noting how the U.S. "is still working through some of our own darker periods" such as slavery, and segregation, and the past treatment of Native Americans.
"History is often tragic, but unresolved, can be a heavy weight," he said. "Each country must work through its past. And reckoning with the past can help us seize a better future. I know there are strong views in this chamber about the terrible events of 1915. While there has been a good deal of commentary about my views, this is really about how the Turkish and Armenian people deal with the past."
ANCA's Hamparian said the president today "missed a valuable opportunity to honor his public pledge to recognize the Armenian Genocide."
"We expect that the President will, during Genocide Prevention Month this April, stand by his word, signaling to the world that America's commitment to the cause of genocide prevention will never again be held hostage to pressures from a foreign government," Hamparian said.
Gul today said he has "suggested that a joint history commission be established and that we would agree to the results or the conclusions of this commission. And Turkey opened -- made its archives available for that purpose."
That said, ANCA's Elizabeth S. Chouldjian expressed some skepticism of Gul's willingness to call the genoicde what it was.
"This is the same president (Gul) who said a few days ago, 'What is there to talk about? There was nothing that happened in 1915 that could be called a genocide.'
"This was an opportunity for President Obama to speak as clearly as he did as a candidate," she said.
- jpt